text.skipToContent
text.skipToNavigation
DIN-Rail Supplies / Receptacles / Hard Wired SPD's
Acme's new flagship line of DM Series DC power supplies are in innovative solution to a vast array of control applications. Designed to provide optimal performance with a minimal impact on installation time and space. Our Power Supplies are compatible with the Hubbell DIN-Rail Utility Box and the Hubbell Hard-Wired SPD's.
DIN-Rail Power Supplies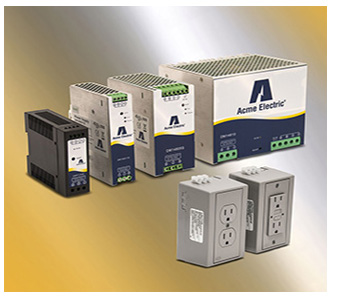 Features:
· Compact, narrow design provides significant space savings
· Available in Single Phase and Three Phase models from 0.6 to 20 Amps (15-480 watts)
· Power factor correction minimizes harmonic distortion
· Compatible with Hubbell's DIN Rail Utility Box and Hubbell's Hard Wired Surge Protective Devices
· Universal input eliminates voltage gaps for full product application versatility
· Can be used in Industrial/Machine control applications
---
Hubbell DIN-Rail Utility Box
Hubbell's DIN Rail Utility Box offers a labor saving way to provide utility power to any control cabinet. Installing the DIN Rail Utility Box is as easy as snapping the box onto a 35mm DIN Rail and connecting the line, neutral and ground wires to the terminal block. Utility power for fans, lights, laptop computers, testers or any other power requirement. All Hubbell DIN Rail Utility Boxes may be mounted either vertically or horizontally on the DIN Rail.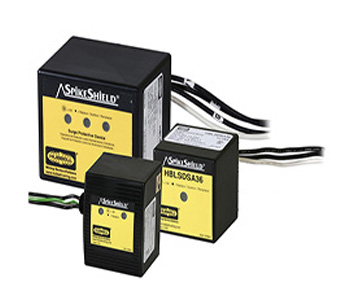 Hubbell Hard-Wired SPD's
Hubbell hard-wired SPDs are multi-phase surge protective devices and noise filters in compact and affordable packages. The compact designs allow surge suppression to be installed adjacent
to power panels or directly on sensitive equipment in harsh electrical conditions.
Features:
· NEMA 4X Enclosure
· Overvoltage technology
· EMI/RFI Noise Rejection
· LED Status Indiction
· Suppression Status Alarm
· Coordinated Fuse Technology