Careers at BURNDY®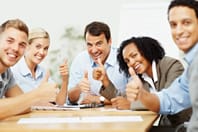 For over 85 years, BURNDY® has been renown throughout the industry for innovation, quality products and technical expertise. What puts us at the forefront of the industry is our knowledgeable and dedicated employees helping to achieve our goals. BURNDY® has an aggressive long term growth strategy and continually make investments in the company and the people who make that growth possible. Our corporate culture promotes and supports teamwork throughout the organization while also encouraging individual contributions. BURNDY® values new ideas, individuality and creativity, while also supporting an environment working as a team toward common goals.
At BURNDY®, you will find an environment that encourages creativity, ingenuity and supports new ideas. If you believe you have the ingenuity, dedication and drive, why not look at joining our team?
BURNDY® LLC. is an Equal Opportunity Employer.