NEO X LED Bulkhead Luminaire
The latest Zone 1 LED X Series luminaire, the Neo X bulkhead focuses on the needs of the user by combining multiple lumen outputs with long term maintenance benefits
Energy Efficient. Compact and Low Maintenance. Impressive Output.
The latest Zone 1 LED X Series luminaire, the Neo X bulkhead focuses on the needs of the user by combining multiple lumen outputs with long term maintenance benefits. Providing a market leading range of photometric outputs using our X-series optics to efficiently illuminate any Zone 1/21 application, the Neo X is a true successor to the Nexled and Nevis ranges of bulkhead luminaires.
View Product

Meet the Neo X
As the transition towards utilising more sustainable lighting products continues, the use of traditional fluorescent lighting is being phased out. That's why the next generation of LED bulkhead fittings - the Neo X is the perfect alternative for emergency lighting solutions.
A Brighter Path
With a certified temperature range from-55°C up to +55°C the Neo X is the bulkhead for every environment and application. The optional benefit of a hot swap battery with excellent IP allows the maintainable components to be easily accessible, and ensures that the ground breaking Neo X is suitable for global use in any harsh or hazardous environment.
Download Datasheet
Area Classification and Applications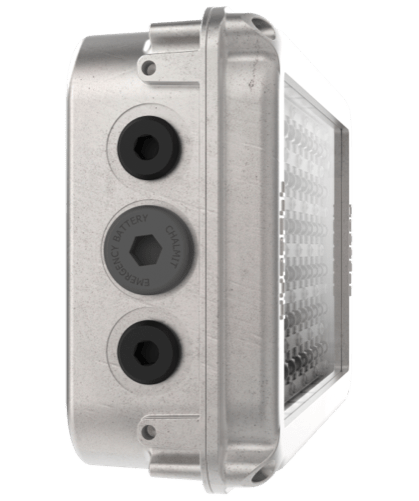 A closer look at the Neo X
Interact with the 3D model below - simply touch and drag the cursor to rotate the product and see it in 360 views.
"The Neo X advances how bulkhead luminaires are used. Opening up new application opportunities with advanced optics, hot swappable battery and a certified ambient range to meet any real world application. It is the perfect product solution for many problem environments"
- Mark Poutney, Brand Manager