text.skipToContent
text.skipToNavigation
---

Helical Piles are the Foundation of the Future
Dry Tortugas National Park is a remote cluster of islands situated nearly 70 miles off Florida's southern coast in the Gulf of Mexico. The park houses Fort Jefferson, a colossal six-sided fort built in the mid-19th century that, despite being unfinished, happens to be the largest masonry structure in the Western Hemisphere.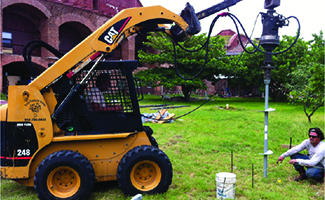 While planning the construction of a new residential building within the fort's courtyard, engineers ran into some of the same obstacles that prevented the structure's completion more than a century ago. The site, surrounded by coral reefs and protected marine and bird habitats, is only reachable by boat or seaplane. Additionally, a 7-foot-wide bridge leading into the courtyard presented both width and weight capacity issues in addition to existing site headroom restrictions.
All of these factors ruled out the possibility of using a traditional auger rig to install a concrete foundation for the new building. The size, vibration and noise outputs, and mobilization requirements of the vehicle would pose too many problems. The island's unstable soil presented additional challenges.
A Versatile Solution
To overcome the challenges posed at Fort Jefferson, the engineers and builders relied on CHANCE® helical piles, manufactured by Hubbell Power Systems. Helical piles are foundational elements that consist of one or more helical bearing plates attached to a central steel shaft.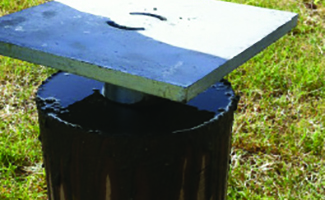 The shaft is twisted into the ground during installation, and the assembly derives its load-carrying capacity through a combination of the end bearing on the helix plates and the skin friction on the shaft; the top of the shaft brackets to the structure's footing.
Helical piles benefit remote sites like Fort Jefferson by eliminating the high mobilization costs associated with the equipment needed to install auger-cast piles, drilled shafts, and driven piles. However, engineers and architects are increasingly relying on helical foundations in the new construction or remedial repair of residential, commercial, or industrial structures in a variety of situations.
Here are five reasons why:
Immediate Loading

Helical piles are premanufactured, and they can be quickly installed with immediate loading. By comparison, establishing a concrete foundation can take several days because that surface has to cure, possibly delaying to the project's completion.

Small Installation Equipment

Helical piles are installed by hydraulic motors, which can be attached to a number of different machines. Installation vehicles commonly include skid-steer loaders, rubber-tire backhoes, and compact excavators.

As the project at Fort Jefferson demonstrated, the fact that helical piles require smaller, low-impact installation equipment means they can be installed in tighter access areas. This feature makes them ideal for use in small backyards, narrow alleyways, underneath overhead obstructions, and on hillsides. They can also be implemented with portable installation equipment in crawl spaces, interior rooms, basements, and other areas where bringing in machinery isn't possible.

Torque-to-Capacity Correlation

Helical foundations are well-suited for heavy loads thanks to the relationship between installation torque and capacity. CHANCE helical piles are installed deep into the ground and transfer loads into higher-bearing soils. As a helical pile moves deeper into increasingly denser soil, torque increases. Moreover, higher installation torque means a pile has a greater axial load capacity.

No Excavation Needed or Spoils to Remove

Because helical piles are displacement piles, no excavation is necessary during installation. To install concrete piles or any other type of replacement pile, soil must be drilled and extracted in order to make room for the concrete. Furthermore, any concrete brought onto the job site that doesn't cure correctly or meet specification requirements will have to be removed — not to mention the waste and spillage.

Installs in any Weather

Mixing and pouring concrete in cold weather can be problematic and expensive. In subzero temperatures, concrete must be kept from freezing in both the mixing and curing stages. Meanwhile, helical piles can be installed regardless of climate or weather conditions.
When to Consider a Helical Foundation
Use helical piles in cases when the soils near the surface aren't suitable to bear the loads of the building. Instances of soft ground, fill, and expansive soils also call for the consideration of a helical foundation.
Structural clues like heaving, cracking or separation between interior and exterior walls, or stuck windows and doors indicate the need for helical foundations to supplement or underpin a distressed foundation.
With a growing number of industry professionals choosing helical piles as a versatile, cost-effective, low-impact alternative, they could make concrete foundations a thing of the past.
Gary L. Seider, P.E., is engineering manager of Hubbell civil and utility CHANCE helical products. Hubbell Power Systems manufactures a wide array of transmission, distribution, substation, OEM, and telecommunication products used by utilities.
With four U.S. patents and more than 40 years of industry experience, Seider oversees the company's civil construction and utility application/project engineering staff. His team assists owners, engineers, and contractors with technical assistance, guidance, and recommendations for the proper use of CHANCE helical anchors and piles and Atlas Resistance® products.