text.skipToContent
text.skipToNavigation
---
Why Helical Piles Are More Attractive as Construction Spending Grows
In a February report, the U.S. Department of Commerce revealed that construction spending was at an 11-year high. The new homes, roads, buildings, and infrastructure springing up across the country are expected to boost local and state economies, which could lead to new and exciting opportunities for helical piles.
Helical piles offer cost-effective foundation solutions that were once too expensive to consider with other foundation systems, giving clients a wider variety of affordable choices. This opens up even more construction opportunities, with more high-paying jobs for skilled construction workers.
The industry is optimistic about the upturn, and economists expect the growth to continue for at least another couple of years. However, the use of helical piles will continue to grow, and as more structures rely on their support, their popularity will soar beyond the current growth spurt.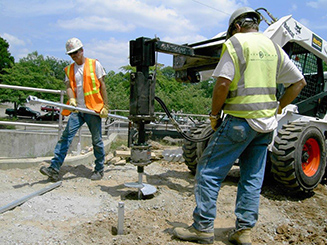 More Construction, More Helical Piles
At our seminars, we give six-hour training courses for professional development credit that allow me to interact with engineers from across the country. With few exceptions, they are so busy that they find it difficult to take a day off to attend training classes. This trend means firms will have to begin (or continue) hiring engineers and architects to handle the increased workloads.
In all sectors — utility, commercial, industrial, government, and residential — engineers rely on helical piles to do more with less. For instance, helical piles have become the foundation option of choice for construction in seismic areas. Where seismic activity is more limited, helical piles still help with tough soil conditions and trickier projects, such as electric transmission line towers.
Where Helical Piles Will Become Most Popular
Based on recent construction spending and the increased need for versatile, economical foundation solutions, we can expect the growth in construction to influence the use of helical piles in several ways, including:
1. More helical piles will be used in new residential construction.
The innovative soil displacement methodology that helical piles utilize means they can be installed in residential areas with minimal vibration, noise, and disturbance. The ICC Evaluation Service (ICC-ES) has already declared CHANCE® brand helical piles suitable and compliant with residential code requirements.
2. More helical piles will be used in urban environments.
Proximity to urban areas can hinder commercial construction and sewer work. Helical piles, which do not require excavation or the removal of spoils, provide an optimal solution that produces minimal vibration or disruption to neighboring buildings. Helical piles are installed using smaller equipment, meaning they are also ideal for urban areas where space is limited.
3. More helical piles will be used in seismic areas.
Seismically active areas such as New Zealand and Japan widely use helical piles. The ability to displace soil without the need for cumbersome, heavy equipment makes them the preferred solution for such tenuous ground. As more quantifiable data is gathered and side-by-side comparisons are conducted, using helical piles for seismic areas will become a more global trend.
Construction spending in all areas is expected to continue rising. As more contractors take on more work, economical solutions such as CHANCE® helical piles will become a cornerstone of their continued growth.