Tilt-Up Construction
---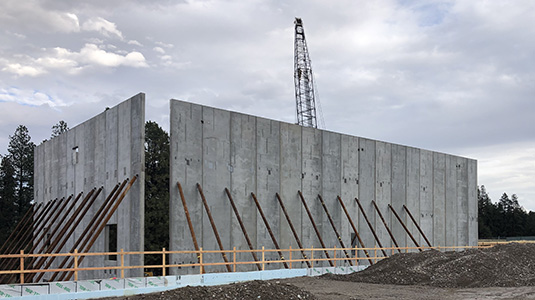 Efficient Construction
Tilt-up construction uses pre-fabricated concrete walls which are tilted up with a crane and braced in position until the roof is added. Using CHANCE helical ground anchors for tilt-up wall support allows you to take an efficient method of construction and streamline it even more.
Each panel typically uses one helical anchor. A single 7-foot-long SS5 square shaft helical anchor, weighs only 77 pounds, but can support a load of up to 50,000 pounds, depending on soil conditions. The support brace attached to the concrete wall is easily connected with the helical ground anchor using a tilt-up construction adapter.
Tilt-up wall construction can be completed on your time table – with helical anchors you can say goodbye to weather delays and curing time associated with concrete.
Watch the Video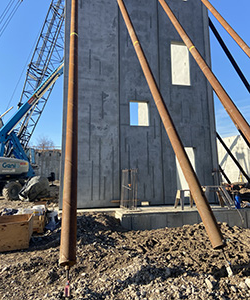 Predictable Capacity
CHANCE helical anchors are an ideal product for providing support to tilt-up panels, simultaneously satisfying tension and compression load handling.
By inputting the site soil conditions into HeliCAP helical capacity design software, and measuring torque during installation, you will have an accurate measurement of the anchor's holding capacity.
Download the Flyer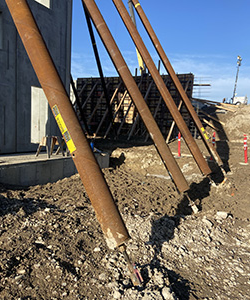 Cost Savings
In addition to the cost savings you will realize from not storing and hauling bulky concrete deadmen and not overdesigning your support system, CHANCE helical ground anchors and tilt-up support brackets can be quickly removed and stored for reuse at the next jobsite.
After the bracing is detached, simply reverse the torque motor to back out the anchor. Because of the pitch of the helix plates, the jobsite soil remains relatively undisturbed and the steel anchor is ready to be reused for your next installation.
Read the Blog