Fiber Optic SP2 … Hear the Distance!
GAI- Tronics is pleased to announce the release of its SP2 Fiber Optic Stations! The SP2 server less paging and intercom system that facilities worldwide have been raving about is now available with an option for native fiber optic connection. This allows customers to harness the many benefits of fiber optic technology in hazardous areas.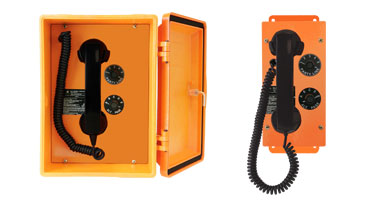 GAI-Tronics Corporation has been the world leader in harsh and hazardous communications for over 70 years. Our unrivaled experience in this industry enables us to develop solutions for any arduous environment - environments which may hinder efficient communication in the very places where it is needed the most. Our latest SP2 stations use fiber optic cable instead of traditional CAT5 to connect to an Ethernet switch. The key benefit of this update is that it increases the maximum switch-to-station distance from 330 feet to several miles! This edition makes it possible to expand an SP2 system to remote areas of your plant without expensive network additions. Plus, because this SP2 uses fiber technology, it allows for much faster and crystal clear communications over greater distances.
To ensure that every customer will benefit from the advantages of the Fiber Optic SP2, GAI-Tronics has designed this model to be compatible with CAT5 SP2 variants – allowing both variations to be used in the same system. Additionally, the SP2 fiber optic stations utilize industry-standard SFP modules - ensuring compatibility with a wide range of network equipment – making the installation process much simpler.
Learn more about our Fiber optic SP2 Stations at www.gai-tronics.com
or contact Stuart Foote at sfoote@gai-tronics.com
Join the Conversation @gai-tronics
---