text.skipToContent
text.skipToNavigation
---
Our History
In 1904, Emil Haefely founded Haefely Test AG. Based on a patented design for manufacturing resin-impregnated paper insulators, the company grew fast and expanded into high voltage testing in 1922. Over the years, Mr. Haefely became a specialist in the fabrication of electrical apparatus, bushings, and capacitors in insulation technology and high-voltage testing equipment.
In 1962, Stanley Peschel split from his father's company and started Hipotronics, Inc. (derived from the words High Potential Electronics) with a vision to build products for the wire and cable industry. From the humble beginnings of the DC wire sparker and patented Hipotrode to the movable core reactor for large resonant systems, almost every underground cable worldwide has been tested by Hipotronics products. Peschel was awarded over 20 U.S. and international patents throughout his career.
The two companies, as shown in this diagram, were in fierce competition for decades - to the point where it almost bankrupted both of them. Little did they know that one day they'd be joining forces.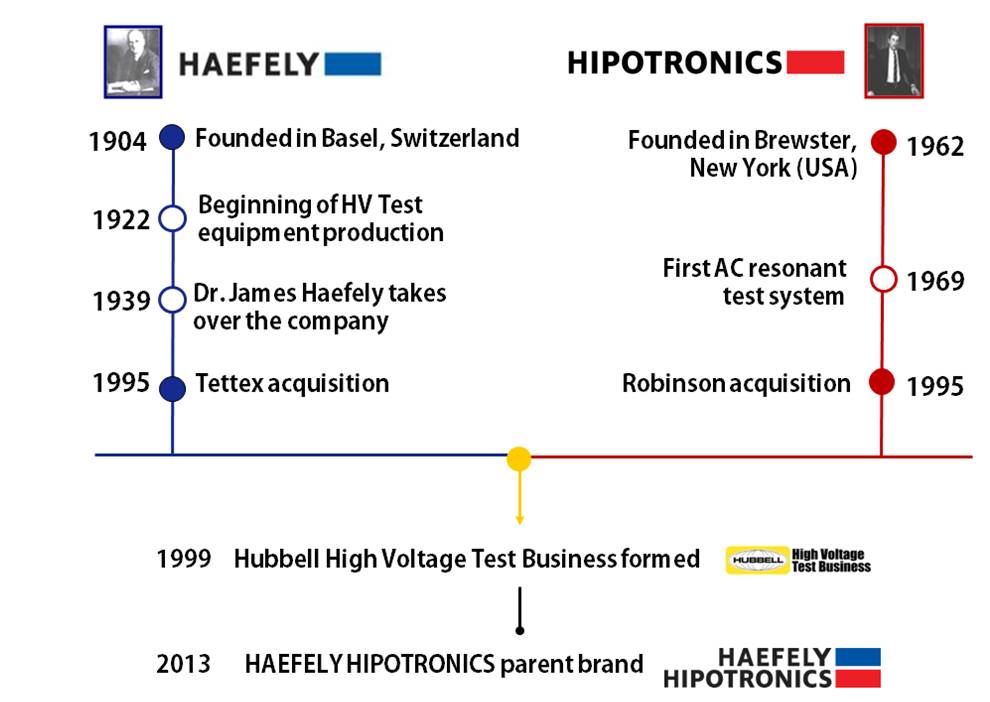 Only the acquisition by Hubbell Incorporated of Hipotronics in 1992 and Haefely in 1999 put an end to the rivalry. In 1999 Haefely Test AG and Hipotronics, Inc. officially became sister companies under the Hubbell umbrella.
Hipotronics maintained its position as market leader in the cable segment while Haefely, their new Swiss sister company, continued as the leader in the transformer segment. The two companies comprised Hubbell's High Voltage Test Solutions platform - just as they do today. In total, they managed a total of four brands: Hipotronics, Haefely High Voltage Test, Haefely EMC, and Tettex Instruments.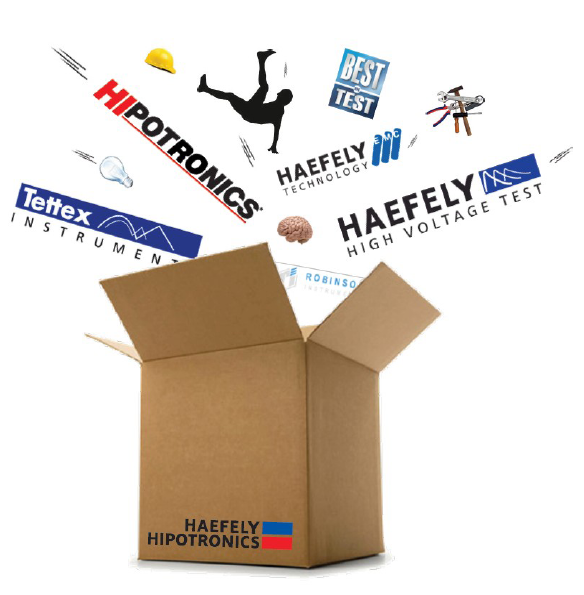 In 2013, two forces became one. Haefely Test AG and Hipotronics, Inc. now share one logo: HAEFELY HIPOTRONICS. The new logo logo symbolizes an organization that is stronger than ever. Its presence demands acknowledgment of the unmatched commitment to serving the testing needs of their worldwide customer base. HAEFELY HIPOTRONICS has more than a century of combined experience and is more than ready to take on the next 100 years. The quality and strength of our products and service are not changing. What is changing is the increased level of coordination and streamlined processes between both companies to exceed customer expectations - above and beyond the current state. Haefely Test AG and Hipotronics, Inc. have a rejuvenated sense of "team" that allows the organization as a whole to go global with respect to tailored product lines and international service. As part of the new and improved High Voltage Test Solutions platform, HAEFELY HIPOTRONICS strives to continue being the best of the best. Short lead times, trusted application knowledge, and forms of vertical integration continue to be key strengths for the company. This new era marks a wave of highly-motivated engineering teams, global field service engineers, and manufacturing departments. The traditional roots of both companies will forever be preserved. The pledge to provide quality products at a competitive price will continue to set us apart from the rest.