text.skipToContent
text.skipToNavigation
OVERVIEW
Pavilion redefines the bollard category with state of the art design, performance, and technology. An integral NEMA 3R enclosure, 2-Gang recessed box, and Bluetooth RGBW accent are just a few of the industry first features of Pavilion.
Form
Configuration starts with 168 different combinations of the optic, top cap, grills and louvers. Customize the body with receptacle outlet capability; RGBW luminous accent brings the final level of user personalization.
Performance
Pavilion delivers IES distribution types with no glare at normal viewing angles. The No Up-light, Clear Horizontal Lens and Clear Vertical Lens configurations are optimized for LED technology.
Control
Pavilion offers a complete suite of sensors, wireless controls and battery backup for energy efficiency.
Beyond Illumination
The Pavilion bollard can be tailored for any illumination requirement whether it be dark sky compliant, IES distributions or traditional low brightness optics. The body of the bollard integrates a NEMA rated enclosure that is fully compatible with any 1 or 2 gang device. A Bluetooth enabled RGBW luminous accent adds way finding capability.
Durable Illumination
All housing components are constructed with die-cast, low copper alloy (<0.6%) aluminum for superior durability. One piece silicone gasketing achieves an IP66 rated optical compartment and assures optical integrity.
Integrated Illumination Motion
Pavilion can be configured with a range of integrated controls
Occupancy - Discrete sensor option intelligently detects occupancy.
Wireless - SiteSync™ is a simple and affordable wireless solution delivering flexible control options.
Bluetooth® - The RGBW luminous accent option is controlled wirelessly via Hubbell Lighting's mobile app to dim or change color.
Impact Bollard
is an architectural solution for any project that would like to provide safety to pedestrians and property without the high security look. It can be configured for a wide range of applications: pedestrian walkways, crosswalks, bike paths, parking garages and mall parking lots. Pavilion delivers 5 IES distribution types: I, II, III, III with house side shield, IV, V.
S20 Crash Rated
S20 crash rated are designed to protect pedestrians and property from the impact of errant or passing vehicles. The Impact bollard has been tested to the stringent standards set forth by the American Society for Testing and Materials (ASTM).
Crash Vs. Security
The Impact bollard has been tested to the stringent standards set forth by the American Society for Testing and Materials (ASTM). Impact bollard is full-scale crash tested by an independent accredited test agency to meet ASTM F3016 a proven safety solution. Engineered solutions are calculations or finite elements to estimate the bollard's performance. Full documentation is available for the ASTM F3016 certification.
Impact Rating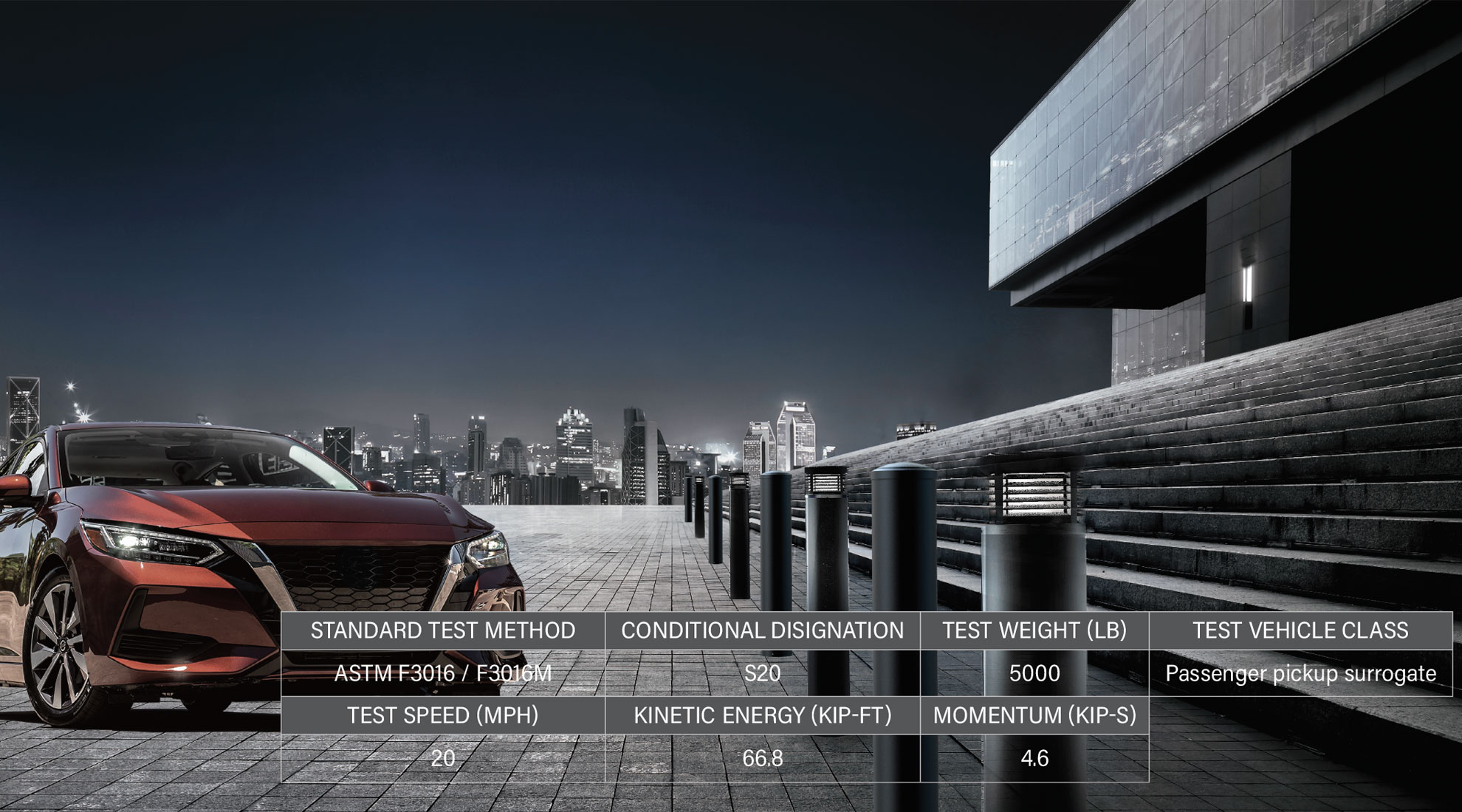 ---
Architectural Illumination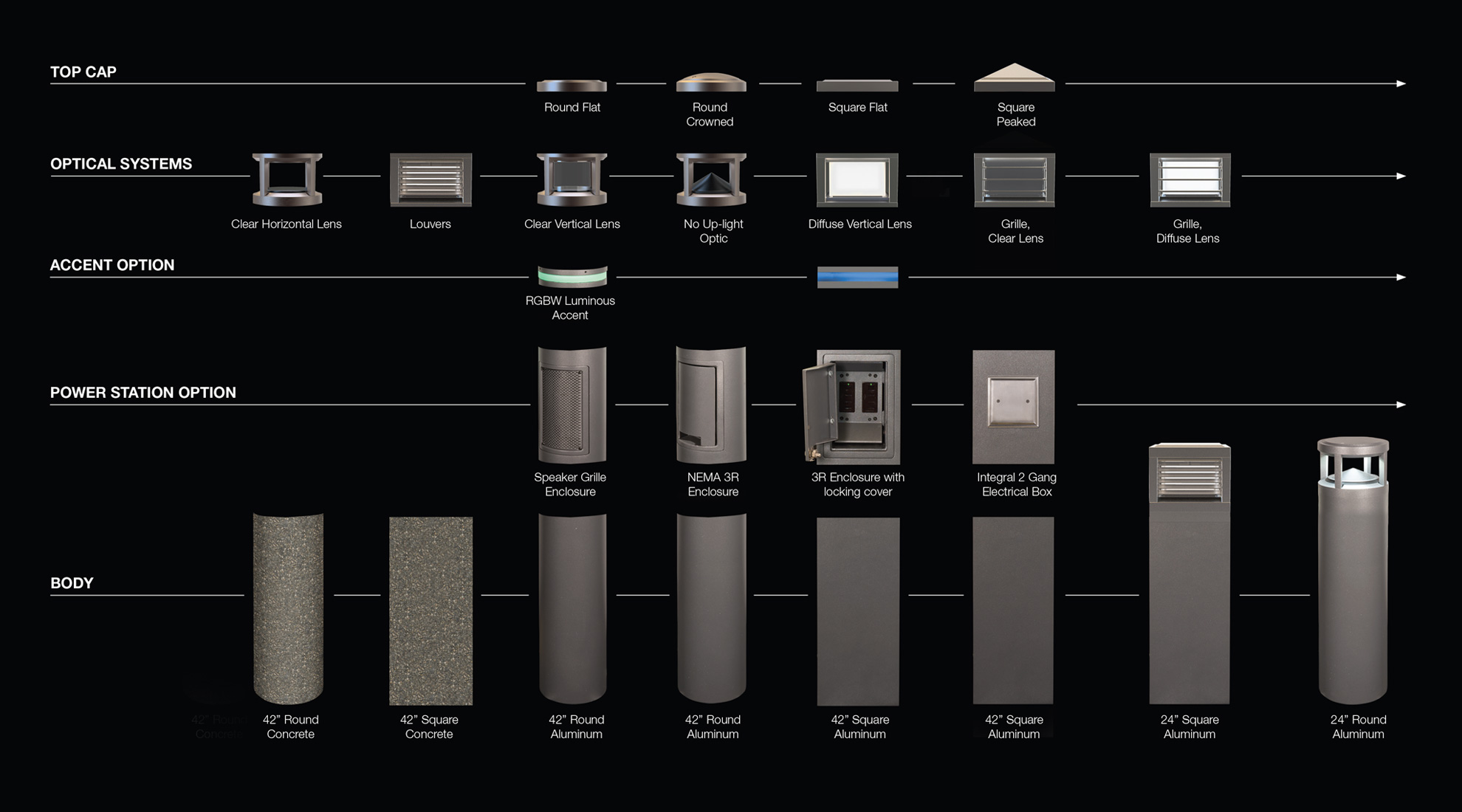 Pavilion Bollard
42" tall (Standard round and square), 24" (Landscape round and square)
Impact Bollard
44" tall (luminous and blind), round bollard only.
Head Options
Pavilion brings a timeless beauty and elegance to any environment. At KIM Lighting, we believe that architecture is experienced differently throughout the day and night, so we designed Pavilion to be the perfect balance of form and function.
Round Flat Top/No Luminous
Round Crown Top/No Luminous
Round Flat Top/With Luminous
Round Crown Top/With Luminous
Square Flat Top/No Luminous
Square Peaked Top/No Luminous
Square Flat Top/With Luminous
Square Peaked Top/With Luminous
Round Flat Top/No Luminous
Round Crown Top/No Luminous
Round Flat Top/With Luminous
Round Crown Top/With Luminous
Product Details
General
Color

BLS - Black Gloss Smooth
BLT - Black Matte Textured
DBS - Dark Bronze Gloss Smooth
DBT- Dark Bronze Matte Textured
GTT - Graphite Matte Textured
LG - Light Grey Matte Textured
LGS - Light Grey Gloss Smooth
PSS - Platinum Silver Gloss Smooth
VGT - Verde Green Matte Textured
WHS - White Gloss Smooth
WHT - White Matte Textured
CC – Custom Color

Dimming Protocol
Dimming Range
10%
Light Source
LED
Type
Low Level/Bollards
Electrical Ratings
Photometry (408)
| Product Name | Color Temp | CRI | Lumens | Lm/W | Watts | Dist. Type | Resources |
| --- | --- | --- | --- | --- | --- | --- | --- |
| PA7R-CH1-12L-010-3K7 | 3000 K | 70 CRI | 1184 lm | 85 | 14.0 W | Type I | |
| PA7R-CH1-12L-010-4K7 | 4000 K | 70 CRI | 1288 lm | 92 | 14.0 W | Type I | |
| PA7R-CH1-12L-010-5K7 | 5000 K | 70 CRI | 1319 lm | 95 | 14.0 W | Type I | |
| PA7R-CH1-12L-020-3K7 | 3000 K | 70 CRI | 1778 lm | 82 | 22.0 W | Type I | |
| PA7R-CH1-12L-020-4K7 | 4000 K | 70 CRI | 1935 lm | 89 | 22.0 W | Type I | |
| PA7R-CH1-12L-020-5K7 | 5000 K | 70 CRI | 1981 lm | 91 | 22.0 W | Type I | |
| PA7R-CH2-12L-010-3K7 | 3000 K | 70 CRI | 1139 lm | 82 | 14.0 W | Type II | |
| PA7R-CH2-12L-010-4K7 | 4000 K | 70 CRI | 1239 lm | 89 | 14.0 W | Type II | |
| PA7R-CH2-12L-010-5K7 | 5000 K | 70 CRI | 1269 lm | 91 | 14.0 W | Type II | |
| PA7R-CH2-12L-020-3K7 | 3000 K | 70 CRI | 1711 lm | 79 | 22.0 W | Type II | |
| PA7R-CH2-12L-020-4K7 | 4000 K | 70 CRI | 1862 lm | 86 | 22.0 W | Type II | |
| PA7R-CH2-12L-020-5K7 | 5000 K | 70 CRI | 1906 lm | 88 | 22.0 W | Type II | |
| PA7R-CH3-12L-010-3K7 | 3000 K | 70 CRI | 1094 lm | 79 | 14.0 W | Type III | |
| PA7R-CH3-12L-010-4K7 | 4000 K | 70 CRI | 1190 lm | 85 | 14.0 W | Type III | |
| PA7R-CH3-12L-010-5K7 | 5000 K | 70 CRI | 1219 lm | 87 | 14.0 W | Type III | |
| PA7R-CH3-12L-020-3K7 | 3000 K | 70 CRI | 1643 lm | 76 | 22.0 W | Type III | |
| PA7R-CH3-12L-020-4K7 | 4000 K | 70 CRI | 1788 lm | 82 | 22.0 W | Type III | |
| PA7R-CH3-12L-020-5K7 | 5000 K | 70 CRI | 1831 lm | 84 | 22.0 W | Type III | |
| PA7R-CH3HS-12L-010-3K7 | 3000 K | 70 CRI | 960 lm | 69 | 14.0 W | Type III + House side shield | |
| PA7R-CH3HS-12L-010-4K7 | 4000 K | 70 CRI | 1045 lm | 75 | 14.0 W | Type III + House side shield | |
| PA7R-CH3HS-12L-010-5K7 | 5000 K | 70 CRI | 1070 lm | 77 | 14.0 W | Type III + House side shield | |
| PA7R-CH3HS-12L-020-3K7 | 3000 K | 70 CRI | 1443 lm | 66 | 22.0 W | Type III + House side shield | |
| PA7R-CH3HS-12L-020-4K7 | 4000 K | 70 CRI | 1570 lm | 72 | 22.0 W | Type III + House side shield | |
| PA7R-CH3HS-12L-020-5K7 | 5000 K | 70 CRI | 1608 lm | 74 | 22.0 W | Type III + House side shield | |
| PA7R-CH4-12L-010-3K7 | 3000 K | 70 CRI | 1152 lm | 83 | 14.0 W | Type IV | |
| PA7R-CH4-12L-010-4K7 | 4000 K | 70 CRI | 1254 lm | 90 | 14.0 W | Type IV | |
| PA7R-CH4-12L-010-5K7 | 5000 K | 70 CRI | 1284 lm | 92 | 14.0 W | Type IV | |
| PA7R-CH4-12L-020-3K7 | 3000 K | 70 CRI | 1731 lm | 80 | 22.0 W | Type IV | |
| PA7R-CH4-12L-020-4K7 | 4000 K | 70 CRI | 1884 lm | 87 | 22.0 W | Type IV | |
| PA7R-CH4-12L-020-5K7 | 5000 K | 70 CRI | 1929 lm | 89 | 22.0 W | Type IV | |
| PA7R-CH5-12L-010-3K7 | 3000 K | 70 CRI | 1225 lm | 88 | 14.0 W | Type V | |
| PA7R-CH5-12L-010-4K7 | 4000 K | 70 CRI | 1333 lm | 96 | 14.0 W | Type V | |
| PA7R-CH5-12L-010-5K7 | 5000 K | 70 CRI | 1365 lm | 98 | 14.0 W | Type V | |
| PA7R-CH5-12L-020-3K7 | 3000 K | 70 CRI | 1841 lm | 85 | 22.0 W | Type V | |
| PA7R-CH5-12L-020-4K7 | 4000 K | 70 CRI | 2003 lm | 92 | 22.0 W | Type V | |
| PA7R-CH5-12L-020-5K7 | 5000 K | 70 CRI | 2051 lm | 95 | 22.0 W | Type V | |
| PA7R-CL1-12L-010-3K7 | 3000 K | 70 CRI | 1146 lm | 82 | 14.0 W | Type I | |
| PA7R-CL1-12L-010-4K7 | 4000 K | 70 CRI | 1247 lm | 90 | 14.0 W | Type I | |
| PA7R-CL1-12L-010-5K7 | 5000 K | 70 CRI | 1277 lm | 92 | 14.0 W | Type I | |
| PA7R-CL1-12L-020-3K7 | 3000 K | 70 CRI | 1852 lm | 85 | 22.0 W | Type I | |
| PA7R-CL1-12L-020-4K7 | 4000 K | 70 CRI | 2016 lm | 93 | 22.0 W | Type I | |
| PA7R-CL1-12L-020-5K7 | 5000 K | 70 CRI | 2064 lm | 95 | 22.0 W | Type I | |
| PA7R-CL2-12L-010-3K7 | 3000 K | 70 CRI | 1228 lm | 88 | 14.0 W | Type II | |
| PA7R-CL2-12L-010-4K7 | 4000 K | 70 CRI | 1336 lm | 96 | 14.0 W | Type II | |
| PA7R-CL2-12L-010-5K7 | 5000 K | 70 CRI | 1368 lm | 98 | 14.0 W | Type II | |
| PA7R-CL2-12L-020-3K7 | 3000 K | 70 CRI | 1984 lm | 91 | 22.0 W | Type II | |
| PA7R-CL2-12L-020-4K7 | 4000 K | 70 CRI | 2159 lm | 99 | 22.0 W | Type II | |
| PA7R-CL2-12L-020-5K7 | 5000 K | 70 CRI | 2211 lm | 102 | 22.0 W | Type II | |
| PA7R-CL3-12L-010-3K7 | 3000 K | 70 CRI | 1276 lm | 92 | 14.0 W | Type III | |
| PA7R-CL3-12L-010-4K7 | 4000 K | 70 CRI | 1389 lm | 100 | 14.0 W | Type III | |
| PA7R-CL3-12L-010-5K7 | 5000 K | 70 CRI | 1422 lm | 102 | 14.0 W | Type III | |
| PA7R-CL3-12L-020-3K7 | 3000 K | 70 CRI | 2062 lm | 95 | 22.0 W | Type III | |
| PA7R-CL3-12L-020-4K7 | 4000 K | 70 CRI | 2244 lm | 103 | 22.0 W | Type III | |
| PA7R-CL3-12L-020-5K7 | 5000 K | 70 CRI | 2298 lm | 106 | 22.0 W | Type III | |
| PA7R-CL3HS-12L-010-3K7 | 3000 K | 70 CRI | 1030 lm | 74 | 14.0 W | Type III + House side shield | |
| PA7R-CL3HS-12L-010-4K7 | 4000 K | 70 CRI | 1121 lm | 80 | 14.0 W | Type III + House side shield | |
| PA7R-CL3HS-12L-010-5K7 | 5000 K | 70 CRI | 1148 lm | 82 | 14.0 W | Type III + House side shield | |
| PA7R-CL3HS-12L-020-3K7 | 3000 K | 70 CRI | 1665 lm | 77 | 22.0 W | Type III + House side shield | |
| PA7R-CL3HS-12L-020-4K7 | 4000 K | 70 CRI | 1811 lm | 83 | 22.0 W | Type III + House side shield | |
| PA7R-CL3HS-12L-020-5K7 | 5000 K | 70 CRI | 1855 lm | 85 | 22.0 W | Type III + House side shield | |
| PA7R-CL4-12L-010-3K7 | 3000 K | 70 CRI | 1272 lm | 91 | 14.0 W | Type IV | |
| PA7R-CL4-12L-010-4K7 | 4000 K | 70 CRI | 1384 lm | 99 | 14.0 W | Type IV | |
| PA7R-CL4-12L-010-5K7 | 5000 K | 70 CRI | 1417 lm | 102 | 14.0 W | Type IV | |
| PA7R-CL4-12L-020-3K7 | 3000 K | 70 CRI | 2055 lm | 95 | 22.0 W | Type IV | |
| PA7R-CL4-12L-020-4K7 | 4000 K | 70 CRI | 2236 lm | 103 | 22.0 W | Type IV | |
| PA7R-CL4-12L-020-5K7 | 5000 K | 70 CRI | 2290 lm | 106 | 22.0 W | Type IV | |
| PA7R-CL5-12L-010-3K7 | 3000 K | 70 CRI | 1305 lm | 94 | 14.0 W | Type V | |
| PA7R-CL5-12L-010-4K7 | 4000 K | 70 CRI | 1420 lm | 102 | 14.0 W | Type V | |
| PA7R-CL5-12L-010-5K7 | 5000 K | 70 CRI | 1454 lm | 104 | 14.0 W | Type V | |
| PA7R-CL5-12L-020-3K7 | 3000 K | 70 CRI | 2109 lm | 97 | 22.0 W | Type V | |
| PA7R-CL5-12L-020-4K7 | 4000 K | 70 CRI | 2295 lm | 106 | 22.0 W | Type V | |
| PA7R-CL5-12L-020-5K7 | 5000 K | 70 CRI | 2350 lm | 108 | 22.0 W | Type V | |
| PA7R-DL1-12L-010-3K7 | 3000 K | 70 CRI | 1086 lm | 78 | 14.0 W | Type I | |
| PA7R-DL1-12L-010-4K7 | 4000 K | 70 CRI | 1182 lm | 85 | 14.0 W | Type I | |
| PA7R-DL1-12L-010-5K7 | 5000 K | 70 CRI | 1210 lm | 87 | 14.0 W | Type I | |
| PA7R-DL1-12L-020-3K7 | 3000 K | 70 CRI | 1639 lm | 76 | 22.0 W | Type I | |
| PA7R-DL1-12L-020-4K7 | 4000 K | 70 CRI | 1783 lm | 82 | 22.0 W | Type I | |
| PA7R-DL1-12L-020-5K7 | 5000 K | 70 CRI | 1826 lm | 84 | 22.0 W | Type I | |
| PA7R-DL5-12L-010-3K7 | 3000 K | 70 CRI | 1141 lm | 82 | 14.0 W | Type V | |
| PA7R-DL5-12L-010-4K7 | 4000 K | 70 CRI | 1241 lm | 89 | 14.0 W | Type V | |
| PA7R-DL5-12L-010-5K7 | 5000 K | 70 CRI | 1271 lm | 91 | 14.0 W | Type V | |
| PA7R-DL5-12L-020-3K7 | 3000 K | 70 CRI | 1721 lm | 79 | 22.0 W | Type V | |
| PA7R-DL5-12L-020-4K7 | 4000 K | 70 CRI | 1873 lm | 86 | 22.0 W | Type V | |
| PA7R-DL5-12L-020-5K7 | 5000 K | 70 CRI | 1918 lm | 88 | 22.0 W | Type V | |
| PA7R-GC1-12L-010-3K7 | 3000 K | 70 CRI | 843 lm | 61 | 14.0 W | Type I | |
| PA7R-GC1-12L-010-4K7 | 4000 K | 70 CRI | 917 lm | 66 | 14.0 W | Type I | |
| PA7R-GC1-12L-010-5K7 | 5000 K | 70 CRI | 939 lm | 67 | 14.0 W | Type I | |
| PA7R-GC1-12L-020-3K7 | 3000 K | 70 CRI | 1038 lm | 48 | 22.0 W | Type I | |
| PA7R-GC1-12L-020-4K7 | 4000 K | 70 CRI | 1130 lm | 52 | 22.0 W | Type I | |
| PA7R-GC1-12L-020-5K7 | 5000 K | 70 CRI | 1157 lm | 53 | 22.0 W | Type I | |
| PA7R-GC2-12L-010-3K7 | 3000 K | 70 CRI | 829 lm | 60 | 14.0 W | Type II | |
| PA7R-GC2-12L-010-4K7 | 4000 K | 70 CRI | 903 lm | 65 | 14.0 W | Type II | |
| PA7R-GC2-12L-010-5K7 | 5000 K | 70 CRI | 924 lm | 66 | 14.0 W | Type II | |
| PA7R-GC2-12L-020-3K7 | 3000 K | 70 CRI | 1021 lm | 47 | 22.0 W | Type II | |
| PA7R-GC2-12L-020-4K7 | 4000 K | 70 CRI | 1111 lm | 51 | 22.0 W | Type II | |
| PA7R-GC2-12L-020-5K7 | 5000 K | 70 CRI | 1138 lm | 52 | 22.0 W | Type II | |
| PA7R-GC3-12L-010-3K7 | 3000 K | 70 CRI | 831 lm | 60 | 14.0 W | Type III | |
| PA7R-GC3-12L-010-4K7 | 4000 K | 70 CRI | 905 lm | 65 | 14.0 W | Type III | |
| PA7R-GC3-12L-010-5K7 | 5000 K | 70 CRI | 926 lm | 67 | 14.0 W | Type III | |
| PA7R-GC3-12L-020-3K7 | 3000 K | 70 CRI | 1024 lm | 47 | 22.0 W | Type III | |
| PA7R-GC3-12L-020-4K7 | 4000 K | 70 CRI | 1114 lm | 51 | 22.0 W | Type III | |
| PA7R-GC3-12L-020-5K7 | 5000 K | 70 CRI | 1141 lm | 53 | 22.0 W | Type III | |
| PA7R-GC3HS-12L-010-3K7 | 3000 K | 70 CRI | 694 lm | 50 | 14.0 W | Type III + House side shield | |
| PA7R-GC3HS-12L-010-4K7 | 4000 K | 70 CRI | 755 lm | 54 | 14.0 W | Type III + House side shield | |
| PA7R-GC3HS-12L-010-5K7 | 5000 K | 70 CRI | 773 lm | 56 | 14.0 W | Type III + House side shield | |
| PA7R-GC3HS-12L-020-3K7 | 3000 K | 70 CRI | 854 lm | 39 | 22.0 W | Type III + House side shield | |
| PA7R-GC3HS-12L-020-4K7 | 4000 K | 70 CRI | 930 lm | 43 | 22.0 W | Type III + House side shield | |
| PA7R-GC3HS-12L-020-5K7 | 5000 K | 70 CRI | 952 lm | 44 | 22.0 W | Type III + House side shield | |
| PA7R-GC4-12L-010-3K7 | 3000 K | 70 CRI | 901 lm | 65 | 14.0 W | Type IV | |
| PA7R-GC4-12L-010-4K7 | 4000 K | 70 CRI | 980 lm | 70 | 14.0 W | Type IV | |
| PA7R-GC4-12L-010-5K7 | 5000 K | 70 CRI | 1004 lm | 72 | 14.0 W | Type IV | |
| PA7R-GC4-12L-020-3K7 | 3000 K | 70 CRI | 1109 lm | 51 | 22.0 W | Type IV | |
| PA7R-GC4-12L-020-4K7 | 4000 K | 70 CRI | 1207 lm | 56 | 22.0 W | Type IV | |
| PA7R-GC4-12L-020-5K7 | 5000 K | 70 CRI | 1236 lm | 57 | 22.0 W | Type IV | |
| PA7R-GC5-12L-010-3K7 | 3000 K | 70 CRI | 842 lm | 60 | 14.0 W | Type V | |
| PA7R-GC5-12L-010-4K7 | 4000 K | 70 CRI | 916 lm | 66 | 14.0 W | Type V | |
| PA7R-GC5-12L-010-5K7 | 5000 K | 70 CRI | 938 lm | 67 | 14.0 W | Type V | |
| PA7R-GC5-12L-020-3K7 | 3000 K | 70 CRI | 1037 lm | 48 | 22.0 W | Type V | |
| PA7R-GC5-12L-020-4K7 | 4000 K | 70 CRI | 1128 lm | 52 | 22.0 W | Type V | |
| PA7R-GC5-12L-020-5K7 | 5000 K | 70 CRI | 1155 lm | 53 | 22.0 W | Type V | |
| PA7R-GD1-12L-010-3K7 | 3000 K | 70 CRI | 728 lm | 52 | 14.0 W | Type I | |
| PA7R-GD1-12L-010-4K7 | 4000 K | 70 CRI | 792 lm | 57 | 14.0 W | Type I | |
| PA7R-GD1-12L-010-5K7 | 5000 K | 70 CRI | 811 lm | 58 | 14.0 W | Type I | |
| PA7R-GD1-12L-020-3K7 | 3000 K | 70 CRI | 1036 lm | 48 | 22.0 W | Type I | |
| PA7R-GD1-12L-020-4K7 | 4000 K | 70 CRI | 1127 lm | 52 | 22.0 W | Type I | |
| PA7R-GD1-12L-020-5K7 | 5000 K | 70 CRI | 1154 lm | 53 | 22.0 W | Type I | |
| PA7R-GD5-12L-010-3K7 | 3000 K | 70 CRI | 782 lm | 56 | 14.0 W | Type V | |
| PA7R-GD5-12L-010-4K7 | 4000 K | 70 CRI | 851 lm | 61 | 14.0 W | Type V | |
| PA7R-GD5-12L-010-5K7 | 5000 K | 70 CRI | 872 lm | 63 | 14.0 W | Type V | |
| PA7R-GD5-12L-020-3K7 | 3000 K | 70 CRI | 953 lm | 44 | 22.0 W | Type V | |
| PA7R-GD5-12L-020-4K7 | 4000 K | 70 CRI | 1037 lm | 48 | 22.0 W | Type V | |
| PA7R-GD5-12L-020-5K7 | 5000 K | 70 CRI | 1062 lm | 49 | 22.0 W | Type V | |
| PA7R-LV1-12L-010-3K7 | 3000 K | 70 CRI | 489 lm | 35 | 14.0 W | Type I | |
| PA7R-LV1-12L-010-4K7 | 4000 K | 70 CRI | 533 lm | 38 | 14.0 W | Type I | |
| PA7R-LV1-12L-010-5K7 | 5000 K | 70 CRI | 545 lm | 39 | 14.0 W | Type I | |
| PA7R-LV1-12L-020-3K7 | 3000 K | 70 CRI | 746 lm | 34 | 22.0 W | Type I | |
| PA7R-LV1-12L-020-4K7 | 4000 K | 70 CRI | 811 lm | 37 | 22.0 W | Type I | |
| PA7R-LV1-12L-020-5K7 | 5000 K | 70 CRI | 831 lm | 38 | 22.0 W | Type I | |
| PA7R-LV2-12L-010-3K7 | 3000 K | 70 CRI | 534 lm | 38 | 14.0 W | Type II | |
| PA7R-LV2-12L-010-4K7 | 4000 K | 70 CRI | 581 lm | 42 | 14.0 W | Type II | |
| PA7R-LV2-12L-010-5K7 | 5000 K | 70 CRI | 595 lm | 43 | 14.0 W | Type II | |
| PA7R-LV2-12L-020-3K7 | 3000 K | 70 CRI | 814 lm | 37 | 22.0 W | Type II | |
| PA7R-LV2-12L-020-4K7 | 4000 K | 70 CRI | 885 lm | 41 | 22.0 W | Type II | |
| PA7R-LV2-12L-020-5K7 | 5000 K | 70 CRI | 907 lm | 42 | 22.0 W | Type II | |
| PA7R-LV3-12L-010-3K7 | 3000 K | 70 CRI | 550 lm | 40 | 14.0 W | Type III | |
| PA7R-LV3-12L-010-4K7 | 4000 K | 70 CRI | 599 lm | 43 | 14.0 W | Type III | |
| PA7R-LV3-12L-010-5K7 | 5000 K | 70 CRI | 613 lm | 44 | 14.0 W | Type III | |
| PA7R-LV3-12L-020-3K7 | 3000 K | 70 CRI | 838 lm | 39 | 22.0 W | Type III | |
| PA7R-LV3-12L-020-4K7 | 4000 K | 70 CRI | 912 lm | 42 | 22.0 W | Type III | |
| PA7R-LV3-12L-020-5K7 | 5000 K | 70 CRI | 934 lm | 43 | 22.0 W | Type III | |
| PA7R-LV3HS-12L-010-3K7 | 3000 K | 70 CRI | 397 lm | 29 | 14.0 W | Type III + House side shield | |
| PA7R-LV3HS-12L-010-4K7 | 4000 K | 70 CRI | 432 lm | 31 | 14.0 W | Type III + House side shield | |
| PA7R-LV3HS-12L-010-5K7 | 5000 K | 70 CRI | 442 lm | 32 | 14.0 W | Type III + House side shield | |
| PA7R-LV3HS-12L-020-3K7 | 3000 K | 70 CRI | 605 lm | 28 | 22.0 W | Type III + House side shield | |
| PA7R-LV3HS-12L-020-4K7 | 4000 K | 70 CRI | 658 lm | 30 | 22.0 W | Type III + House side shield | |
| PA7R-LV3HS-12L-020-5K7 | 5000 K | 70 CRI | 674 lm | 31 | 22.0 W | Type III + House side shield | |
| PA7R-LV4-12L-010-3K7 | 3000 K | 70 CRI | 577 lm | 41 | 14.0 W | Type IV | |
| PA7R-LV4-12L-010-4K7 | 4000 K | 70 CRI | 628 lm | 45 | 14.0 W | Type IV | |
| PA7R-LV4-12L-010-5K7 | 5000 K | 70 CRI | 643 lm | 46 | 14.0 W | Type IV | |
| PA7R-LV4-12L-020-3K7 | 3000 K | 70 CRI | 879 lm | 40 | 22.0 W | Type IV | |
| PA7R-LV4-12L-020-4K7 | 4000 K | 70 CRI | 956 lm | 44 | 22.0 W | Type IV | |
| PA7R-LV4-12L-020-5K7 | 5000 K | 70 CRI | 979 lm | 45 | 22.0 W | Type IV | |
| PA7R-LV5-12L-010-3K7 | 3000 K | 70 CRI | 583 lm | 42 | 14.0 W | Type V | |
| PA7R-LV5-12L-010-4K7 | 4000 K | 70 CRI | 634 lm | 46 | 14.0 W | Type V | |
| PA7R-LV5-12L-010-5K7 | 5000 K | 70 CRI | 649 lm | 47 | 14.0 W | Type V | |
| PA7R-LV5-12L-020-3K7 | 3000 K | 70 CRI | 888 lm | 41 | 22.0 W | Type V | |
| PA7R-LV5-12L-020-4K7 | 4000 K | 70 CRI | 966 lm | 45 | 22.0 W | Type V | |
| PA7R-LV5-12L-020-5K7 | 5000 K | 70 CRI | 989 lm | 46 | 22.0 W | Type V | |
| PA7R-NU1-12L-010-3K7 | 3000 K | 70 CRI | 749 lm | 54 | 14.0 W | Type I | |
| PA7R-NU1-12L-010-4K7 | 4000 K | 70 CRI | 815 lm | 59 | 14.0 W | Type I | |
| PA7R-NU1-12L-010-5K7 | 5000 K | 70 CRI | 835 lm | 60 | 14.0 W | Type I | |
| PA7R-NU1-12L-020-3K7 | 3000 K | 70 CRI | 1044 lm | 48 | 22.0 W | Type I | |
| PA7R-NU1-12L-020-4K7 | 4000 K | 70 CRI | 1136 lm | 52 | 22.0 W | Type I | |
| PA7R-NU1-12L-020-5K7 | 5000 K | 70 CRI | 1164 lm | 54 | 22.0 W | Type I | |
| PA7R-NU2-12L-010-3K7 | 3000 K | 70 CRI | 860 lm | 62 | 14.0 W | Type II | |
| PA7R-NU2-12L-010-4K7 | 4000 K | 70 CRI | 936 lm | 67 | 14.0 W | Type II | |
| PA7R-NU2-12L-010-5K7 | 5000 K | 70 CRI | 958 lm | 69 | 14.0 W | Type II | |
| PA7R-NU2-12L-020-3K7 | 3000 K | 70 CRI | 1199 lm | 55 | 22.0 W | Type II | |
| PA7R-NU2-12L-020-4K7 | 4000 K | 70 CRI | 1305 lm | 60 | 22.0 W | Type II | |
| PA7R-NU2-12L-020-5K7 | 5000 K | 70 CRI | 1336 lm | 62 | 22.0 W | Type II | |
| PA7R-NU3-12L-010-3K7 | 3000 K | 70 CRI | 809 lm | 58 | 14.0 W | Type III | |
| PA7R-NU3-12L-010-4K7 | 4000 K | 70 CRI | 881 lm | 63 | 14.0 W | Type III | |
| PA7R-NU3-12L-010-5K7 | 5000 K | 70 CRI | 902 lm | 65 | 14.0 W | Type III | |
| PA7R-NU3-12L-020-3K7 | 3000 K | 70 CRI | 1128 lm | 52 | 22.0 W | Type III | |
| PA7R-NU3-12L-020-4K7 | 4000 K | 70 CRI | 1228 lm | 57 | 22.0 W | Type III | |
| PA7R-NU3-12L-020-5K7 | 5000 K | 70 CRI | 1257 lm | 58 | 22.0 W | Type III | |
| PA7R-NU3HS-12L-010-3K7 | 3000 K | 70 CRI | 684 lm | 49 | 14.0 W | Type III + House side shield | |
| PA7R-NU3HS-12L-010-4K7 | 4000 K | 70 CRI | 744 lm | 53 | 14.0 W | Type III + House side shield | |
| PA7R-NU3HS-12L-010-5K7 | 5000 K | 70 CRI | 762 lm | 55 | 14.0 W | Type III + House side shield | |
| PA7R-NU3HS-12L-020-3K7 | 3000 K | 70 CRI | 953 lm | 44 | 22.0 W | Type III + House side shield | |
| PA7R-NU3HS-12L-020-4K7 | 4000 K | 70 CRI | 1037 lm | 48 | 22.0 W | Type III + House side shield | |
| PA7R-NU3HS-12L-020-5K7 | 5000 K | 70 CRI | 1062 lm | 49 | 22.0 W | Type III + House side shield | |
| PA7R-NU4-12L-010-3K7 | 3000 K | 70 CRI | 977 lm | 70 | 14.0 W | Type IV | |
| PA7R-NU4-12L-010-4K7 | 4000 K | 70 CRI | 1063 lm | 76 | 14.0 W | Type IV | |
| PA7R-NU4-12L-010-5K7 | 5000 K | 70 CRI | 1089 lm | 78 | 14.0 W | Type IV | |
| PA7R-NU4-12L-020-3K7 | 3000 K | 70 CRI | 1362 lm | 63 | 22.0 W | Type IV | |
| PA7R-NU4-12L-020-4K7 | 4000 K | 70 CRI | 1482 lm | 68 | 22.0 W | Type IV | |
| PA7R-NU4-12L-020-5K7 | 5000 K | 70 CRI | 1518 lm | 70 | 22.0 W | Type IV | |
| PA7R-NU5-12L-010-3K7 | 3000 K | 70 CRI | 908 lm | 65 | 14.0 W | Type V | |
| PA7R-NU5-12L-010-4K7 | 4000 K | 70 CRI | 988 lm | 71 | 14.0 W | Type V | |
| PA7R-NU5-12L-010-5K7 | 5000 K | 70 CRI | 1011 lm | 73 | 14.0 W | Type V | |
| PA7R-NU5-12L-020-3K7 | 3000 K | 70 CRI | 1265 lm | 58 | 22.0 W | Type V | |
| PA7R-NU5-12L-020-4K7 | 4000 K | 70 CRI | 1377 lm | 63 | 22.0 W | Type V | |
| PA7R-NU5-12L-020-5K7 | 5000 K | 70 CRI | 1410 lm | 65 | 22.0 W | Type V | |
| PA7S-CH1-12L-010-3K7 | 3000 K | 70 CRI | 1129 lm | 81 | 14.0 W | Type I | |
| PA7S-CH1-12L-010-4K7 | 4000 K | 70 CRI | 1135 lm | 81 | 14.0 W | Type I | |
| PA7S-CH1-12L-010-5K7 | 5000 K | 70 CRI | 1209 lm | 86 | 14.0 W | Type I | |
| PA7S-CH1-12L-020-3K7 | 3000 K | 70 CRI | 1784 lm | 82 | 22.0 W | Type I | |
| PA7S-CH1-12L-020-4K7 | 4000 K | 70 CRI | 1794 lm | 83 | 22.0 W | Type I | |
| PA7S-CH1-12L-020-5K7 | 5000 K | 70 CRI | 1910 lm | 88 | 22.0 W | Type I | |
| PA7S-CH2-12L-010-3K7 | 3000 K | 70 CRI | 1063 lm | 76 | 14.0 W | Type II | |
| PA7S-CH2-12L-010-4K7 | 4000 K | 70 CRI | 1069 lm | 76 | 14.0 W | Type II | |
| PA7S-CH2-12L-010-5K7 | 5000 K | 70 CRI | 1138 lm | 81 | 14.0 W | Type II | |
| PA7S-CH2-12L-020-3K7 | 3000 K | 70 CRI | 1680 lm | 77 | 22.0 W | Type II | |
| PA7S-CH2-12L-020-4K7 | 4000 K | 70 CRI | 1690 lm | 78 | 22.0 W | Type II | |
| PA7S-CH2-12L-020-5K7 | 5000 K | 70 CRI | 1799 lm | 83 | 22.0 W | Type II | |
| PA7S-CH3-12L-010-3K7 | 3000 K | 70 CRI | 1047 lm | 75 | 14.0 W | Type III | |
| PA7S-CH3-12L-010-4K7 | 4000 K | 70 CRI | 1053 lm | 75 | 14.0 W | Type III | |
| PA7S-CH3-12L-010-5K7 | 5000 K | 70 CRI | 1121 lm | 80 | 14.0 W | Type III | |
| PA7S-CH3-12L-020-3K7 | 3000 K | 70 CRI | 1723 lm | 79 | 22.0 W | Type III | |
| PA7S-CH3-12L-020-4K7 | 4000 K | 70 CRI | 1802 lm | 83 | 22.0 W | Type III | |
| PA7S-CH3-12L-020-5K7 | 5000 K | 70 CRI | 1772 lm | 82 | 22.0 W | Type III | |
| PA7S-CH3HS-12L-010-3K7 | 3000 K | 70 CRI | 870 lm | 62 | 14.0 W | Type III + House side shield | |
| PA7S-CH3HS-12L-010-4K7 | 4000 K | 70 CRI | 875 lm | 63 | 14.0 W | Type III + House side shield | |
| PA7S-CH3HS-12L-010-5K7 | 5000 K | 70 CRI | 932 lm | 67 | 14.0 W | Type III + House side shield | |
| PA7S-CH3HS-12L-020-3K7 | 3000 K | 70 CRI | 1375 lm | 63 | 22.0 W | Type III + House side shield | |
| PA7S-CH3HS-12L-020-4K7 | 4000 K | 70 CRI | 1383 lm | 64 | 22.0 W | Type III + House side shield | |
| PA7S-CH3HS-12L-020-5K7 | 5000 K | 70 CRI | 1473 lm | 68 | 22.0 W | Type III + House side shield | |
| PA7S-CH4-12L-010-3K7 | 3000 K | 70 CRI | 1076 lm | 77 | 14.0 W | Type IV | |
| PA7S-CH4-12L-010-4K7 | 4000 K | 70 CRI | 1082 lm | 77 | 14.0 W | Type IV | |
| PA7S-CH4-12L-010-5K7 | 5000 K | 70 CRI | 1152 lm | 82 | 14.0 W | Type IV | |
| PA7S-CH4-12L-020-3K7 | 3000 K | 70 CRI | 1701 lm | 78 | 22.0 W | Type IV | |
| PA7S-CH4-12L-020-4K7 | 4000 K | 70 CRI | 1710 lm | 79 | 22.0 W | Type IV | |
| PA7S-CH4-12L-020-5K7 | 5000 K | 70 CRI | 1821 lm | 84 | 22.0 W | Type IV | |
| PA7S-CH5-12L-010-3K7 | 3000 K | 70 CRI | 1035 lm | 74 | 14.0 W | Type V | |
| PA7S-CH5-12L-010-4K7 | 4000 K | 70 CRI | 1040 lm | 74 | 14.0 W | Type V | |
| PA7S-CH5-12L-010-5K7 | 5000 K | 70 CRI | 1108 lm | 79 | 14.0 W | Type V | |
| PA7S-CH5-12L-020-3K7 | 3000 K | 70 CRI | 1635 lm | 75 | 22.0 W | Type V | |
| PA7S-CH5-12L-020-4K7 | 4000 K | 70 CRI | 1644 lm | 76 | 22.0 W | Type V | |
| PA7S-CH5-12L-020-5K7 | 5000 K | 70 CRI | 1751 lm | 81 | 22.0 W | Type V | |
| PA7S-CL1-12L-010-3K7 | 3000 K | 70 CRI | 1243 lm | 89 | 14.0 W | Type I | |
| PA7S-CL1-12L-010-4K7 | 4000 K | 70 CRI | 1250 lm | 89 | 14.0 W | Type I | |
| PA7S-CL1-12L-010-5K7 | 5000 K | 70 CRI | 1331 lm | 95 | 14.0 W | Type I | |
| PA7S-CL1-12L-020-3K7 | 3000 K | 70 CRI | 1792 lm | 82 | 22.0 W | Type I | |
| PA7S-CL1-12L-020-4K7 | 4000 K | 70 CRI | 1802 lm | 83 | 22.0 W | Type I | |
| PA7S-CL1-12L-020-5K7 | 5000 K | 70 CRI | 1918 lm | 88 | 22.0 W | Type I | |
| PA7S-CL2-12L-010-3K7 | 3000 K | 70 CRI | 1309 lm | 93 | 14.0 W | Type II | |
| PA7S-CL2-12L-010-4K7 | 4000 K | 70 CRI | 1316 lm | 94 | 14.0 W | Type II | |
| PA7S-CL2-12L-010-5K7 | 5000 K | 70 CRI | 1401 lm | 100 | 14.0 W | Type II | |
| PA7S-CL2-12L-020-3K7 | 3000 K | 70 CRI | 1886 lm | 87 | 22.0 W | Type II | |
| PA7S-CL2-12L-020-4K7 | 4000 K | 70 CRI | 1897 lm | 87 | 22.0 W | Type II | |
| PA7S-CL2-12L-020-5K7 | 5000 K | 70 CRI | 2020 lm | 93 | 22.0 W | Type II | |
| PA7S-CL3-12L-010-3K7 | 3000 K | 70 CRI | 1320 lm | 94 | 14.0 W | Type III | |
| PA7S-CL3-12L-010-4K7 | 4000 K | 70 CRI | 1328 lm | 95 | 14.0 W | Type III | |
| PA7S-CL3-12L-010-5K7 | 5000 K | 70 CRI | 1414 lm | 101 | 14.0 W | Type III | |
| PA7S-CL3-12L-020-3K7 | 3000 K | 70 CRI | 1902 lm | 88 | 22.0 W | Type III | |
| PA7S-CL3-12L-020-4K7 | 4000 K | 70 CRI | 1913 lm | 88 | 22.0 W | Type III | |
| PA7S-CL3-12L-020-5K7 | 5000 K | 70 CRI | 2037 lm | 94 | 22.0 W | Type III | |
| PA7S-CL3HS-12L-010-3K7 | 3000 K | 70 CRI | 1097 lm | 78 | 14.0 W | Type III + House side shield | |
| PA7S-CL3HS-12L-010-4K7 | 4000 K | 70 CRI | 1104 lm | 79 | 14.0 W | Type III + House side shield | |
| PA7S-CL3HS-12L-010-5K7 | 5000 K | 70 CRI | 1175 lm | 84 | 14.0 W | Type III + House side shield | |
| PA7S-CL3HS-12L-020-3K7 | 3000 K | 70 CRI | 1582 lm | 73 | 22.0 W | Type III + House side shield | |
| PA7S-CL3HS-12L-020-4K7 | 4000 K | 70 CRI | 1591 lm | 73 | 22.0 W | Type III + House side shield | |
| PA7S-CL3HS-12L-020-5K7 | 5000 K | 70 CRI | 1694 lm | 78 | 22.0 W | Type III + House side shield | |
| PA7S-CL4-12L-010-3K7 | 3000 K | 70 CRI | 1402 lm | 100 | 14.0 W | Type IV | |
| PA7S-CL4-12L-010-4K7 | 4000 K | 70 CRI | 1409 lm | 101 | 14.0 W | Type IV | |
| PA7S-CL4-12L-010-5K7 | 5000 K | 70 CRI | 1501 lm | 107 | 14.0 W | Type IV | |
| PA7S-CL4-12L-020-3K7 | 3000 K | 70 CRI | 2019 lm | 93 | 22.0 W | Type IV | |
| PA7S-CL4-12L-020-4K7 | 4000 K | 70 CRI | 2031 lm | 93 | 22.0 W | Type IV | |
| PA7S-CL4-12L-020-5K7 | 5000 K | 70 CRI | 2162 lm | 100 | 22.0 W | Type IV | |
| PA7S-CL5-12L-010-3K7 | 3000 K | 70 CRI | 1358 lm | 97 | 14.0 W | Type V | |
| PA7S-CL5-12L-010-4K7 | 4000 K | 70 CRI | 1366 lm | 98 | 14.0 W | Type V | |
| PA7S-CL5-12L-010-5K7 | 5000 K | 70 CRI | 1454 lm | 104 | 14.0 W | Type V | |
| PA7S-CL5-12L-020-3K7 | 3000 K | 70 CRI | 1957 lm | 90 | 22.0 W | Type V | |
| PA7S-CL5-12L-020-4K7 | 4000 K | 70 CRI | 1968 lm | 91 | 22.0 W | Type V | |
| PA7S-CL5-12L-020-5K7 | 5000 K | 70 CRI | 2096 lm | 96 | 22.0 W | Type V | |
| PA7S-DL1-12L-010-3K7 | 3000 K | 70 CRI | 1109 lm | 79 | 14.0 W | Type I | |
| PA7S-DL1-12L-010-4K7 | 4000 K | 70 CRI | 1115 lm | 80 | 14.0 W | Type I | |
| PA7S-DL1-12L-010-5K7 | 5000 K | 70 CRI | 1187 lm | 85 | 14.0 W | Type I | |
| PA7S-DL1-12L-020-3K7 | 3000 K | 70 CRI | 1625 lm | 75 | 22.0 W | Type I | |
| PA7S-DL1-12L-020-4K7 | 4000 K | 70 CRI | 1635 lm | 75 | 22.0 W | Type I | |
| PA7S-DL1-12L-020-5K7 | 5000 K | 70 CRI | 1740 lm | 80 | 22.0 W | Type I | |
| PA7S-DL5-12L-010-3K7 | 3000 K | 70 CRI | 1218 lm | 87 | 14.0 W | Type V | |
| PA7S-DL5-12L-010-4K7 | 4000 K | 70 CRI | 1225 lm | 88 | 14.0 W | Type V | |
| PA7S-DL5-12L-010-5K7 | 5000 K | 70 CRI | 1305 lm | 93 | 14.0 W | Type V | |
| PA7S-DL5-12L-020-3K7 | 3000 K | 70 CRI | 1795 lm | 83 | 22.0 W | Type V | |
| PA7S-DL5-12L-020-4K7 | 4000 K | 70 CRI | 1805 lm | 83 | 22.0 W | Type V | |
| PA7S-DL5-12L-020-5K7 | 5000 K | 70 CRI | 1922 lm | 88 | 22.0 W | Type V | |
| PA7S-GC1-12L-010-3K7 | 3000 K | 70 CRI | 938 lm | 67 | 14.0 W | Type I | |
| PA7S-GC1-12L-010-4K7 | 4000 K | 70 CRI | 943 lm | 67 | 14.0 W | Type I | |
| PA7S-GC1-12L-010-5K7 | 5000 K | 70 CRI | 1004 lm | 72 | 14.0 W | Type I | |
| PA7S-GC1-12L-020-3K7 | 3000 K | 70 CRI | 1236 lm | 57 | 22.0 W | Type I | |
| PA7S-GC1-12L-020-4K7 | 4000 K | 70 CRI | 1243 lm | 57 | 22.0 W | Type I | |
| PA7S-GC1-12L-020-5K7 | 5000 K | 70 CRI | 1324 lm | 61 | 22.0 W | Type I | |
| PA7S-GC2-12L-010-3K7 | 3000 K | 70 CRI | 962 lm | 69 | 14.0 W | Type II | |
| PA7S-GC2-12L-010-4K7 | 4000 K | 70 CRI | 968 lm | 69 | 14.0 W | Type II | |
| PA7S-GC2-12L-010-5K7 | 5000 K | 70 CRI | 1031 lm | 74 | 14.0 W | Type II | |
| PA7S-GC2-12L-020-3K7 | 3000 K | 70 CRI | 1269 lm | 58 | 22.0 W | Type II | |
| PA7S-GC2-12L-020-4K7 | 4000 K | 70 CRI | 1276 lm | 59 | 22.0 W | Type II | |
| PA7S-GC2-12L-020-5K7 | 5000 K | 70 CRI | 1358 lm | 63 | 22.0 W | Type II | |
| PA7S-GC3-12L-010-3K7 | 3000 K | 70 CRI | 963 lm | 69 | 14.0 W | Type III | |
| PA7S-GC3-12L-010-4K7 | 4000 K | 70 CRI | 968 lm | 69 | 14.0 W | Type III | |
| PA7S-GC3-12L-010-5K7 | 5000 K | 70 CRI | 1031 lm | 74 | 14.0 W | Type III | |
| PA7S-GC3-12L-020-3K7 | 3000 K | 70 CRI | 1269 lm | 58 | 22.0 W | Type III | |
| PA7S-GC3-12L-020-4K7 | 4000 K | 70 CRI | 1276 lm | 59 | 22.0 W | Type III | |
| PA7S-GC3-12L-020-5K7 | 5000 K | 70 CRI | 1359 lm | 63 | 22.0 W | Type III | |
| PA7S-GC3HS-12L-010-3K7 | 3000 K | 70 CRI | 784 lm | 56 | 14.0 W | Type III + House side shield | |
| PA7S-GC3HS-12L-010-4K7 | 4000 K | 70 CRI | 789 lm | 56 | 14.0 W | Type III + House side shield | |
| PA7S-GC3HS-12L-010-5K7 | 5000 K | 70 CRI | 840 lm | 60 | 14.0 W | Type III + House side shield | |
| PA7S-GC3HS-12L-020-3K7 | 3000 K | 70 CRI | 1034 lm | 48 | 22.0 W | Type III + House side shield | |
| PA7S-GC3HS-12L-020-4K7 | 4000 K | 70 CRI | 1040 lm | 48 | 22.0 W | Type III + House side shield | |
| PA7S-GC3HS-12L-020-5K7 | 5000 K | 70 CRI | 1107 lm | 51 | 22.0 W | Type III + House side shield | |
| PA7S-GC4-12L-010-3K7 | 3000 K | 70 CRI | 1058 lm | 76 | 14.0 W | Type IV | |
| PA7S-GC4-12L-010-4K7 | 4000 K | 70 CRI | 1064 lm | 76 | 14.0 W | Type IV | |
| PA7S-GC4-12L-010-5K7 | 5000 K | 70 CRI | 1133 lm | 81 | 14.0 W | Type IV | |
| PA7S-GC4-12L-020-3K7 | 3000 K | 70 CRI | 1394 lm | 64 | 22.0 W | Type IV | |
| PA7S-GC4-12L-020-4K7 | 4000 K | 70 CRI | 1402 lm | 65 | 22.0 W | Type IV | |
| PA7S-GC4-12L-020-5K7 | 5000 K | 70 CRI | 1493 lm | 69 | 22.0 W | Type IV | |
| PA7S-GC5-12L-010-3K7 | 3000 K | 70 CRI | 998 lm | 71 | 14.0 W | Type V | |
| PA7S-GC5-12L-010-4K7 | 4000 K | 70 CRI | 1004 lm | 72 | 14.0 W | Type V | |
| PA7S-GC5-12L-010-5K7 | 5000 K | 70 CRI | 1069 lm | 76 | 14.0 W | Type V | |
| PA7S-GC5-12L-020-3K7 | 3000 K | 70 CRI | 1316 lm | 61 | 22.0 W | Type V | |
| PA7S-GC5-12L-020-4K7 | 4000 K | 70 CRI | 1323 lm | 61 | 22.0 W | Type V | |
| PA7S-GC5-12L-020-5K7 | 5000 K | 70 CRI | 1409 lm | 65 | 22.0 W | Type V | |
| PA7S-GD1-12L-010-3K7 | 3000 K | 70 CRI | 804 lm | 57 | 14.0 W | Type I | |
| PA7S-GD1-12L-010-4K7 | 4000 K | 70 CRI | 809 lm | 58 | 14.0 W | Type I | |
| PA7S-GD1-12L-010-5K7 | 5000 K | 70 CRI | 861 lm | 62 | 14.0 W | Type I | |
| PA7S-GD1-12L-020-3K7 | 3000 K | 70 CRI | 1215 lm | 56 | 22.0 W | Type I | |
| PA7S-GD1-12L-020-4K7 | 4000 K | 70 CRI | 1222 lm | 56 | 22.0 W | Type I | |
| PA7S-GD1-12L-020-5K7 | 5000 K | 70 CRI | 1301 lm | 60 | 22.0 W | Type I | |
| PA7S-GD5-12L-010-3K7 | 3000 K | 70 CRI | 897 lm | 64 | 14.0 W | Type V | |
| PA7S-GD5-12L-010-4K7 | 4000 K | 70 CRI | 902 lm | 64 | 14.0 W | Type V | |
| PA7S-GD5-12L-010-5K7 | 5000 K | 70 CRI | 960 lm | 69 | 14.0 W | Type V | |
| PA7S-GD5-12L-020-3K7 | 3000 K | 70 CRI | 1329 lm | 61 | 22.0 W | Type V | |
| PA7S-GD5-12L-020-4K7 | 4000 K | 70 CRI | 1336 lm | 62 | 22.0 W | Type V | |
| PA7S-GD5-12L-020-5K7 | 5000 K | 70 CRI | 1423 lm | 66 | 22.0 W | Type V | |
| PA7S-LV1-12L-010-3K7 | 3000 K | 70 CRI | 812 lm | 58 | 14.0 W | Type I | |
| PA7S-LV1-12L-010-4K7 | 4000 K | 70 CRI | 817 lm | 58 | 14.0 W | Type I | |
| PA7S-LV1-12L-010-5K7 | 5000 K | 70 CRI | 869 lm | 62 | 14.0 W | Type I | |
| PA7S-LV1-12L-020-3K7 | 3000 K | 70 CRI | 1093 lm | 50 | 22.0 W | Type I | |
| PA7S-LV1-12L-020-4K7 | 4000 K | 70 CRI | 1100 lm | 51 | 22.0 W | Type I | |
| PA7S-LV1-12L-020-5K7 | 5000 K | 70 CRI | 1171 lm | 54 | 22.0 W | Type I | |
| PA7S-LV2-12L-010-3K7 | 3000 K | 70 CRI | 837 lm | 60 | 14.0 W | Type II | |
| PA7S-LV2-12L-010-4K7 | 4000 K | 70 CRI | 841 lm | 60 | 14.0 W | Type II | |
| PA7S-LV2-12L-010-5K7 | 5000 K | 70 CRI | 896 lm | 64 | 14.0 W | Type II | |
| PA7S-LV2-12L-020-3K7 | 3000 K | 70 CRI | 1127 lm | 52 | 22.0 W | Type II | |
| PA7S-LV2-12L-020-4K7 | 4000 K | 70 CRI | 1133 lm | 52 | 22.0 W | Type II | |
| PA7S-LV2-12L-020-5K7 | 5000 K | 70 CRI | 1206 lm | 56 | 22.0 W | Type II | |
| PA7S-LV3-12L-010-3K7 | 3000 K | 70 CRI | 862 lm | 62 | 14.0 W | Type III | |
| PA7S-LV3-12L-010-4K7 | 4000 K | 70 CRI | 867 lm | 62 | 14.0 W | Type III | |
| PA7S-LV3-12L-010-5K7 | 5000 K | 70 CRI | 923 lm | 66 | 14.0 W | Type III | |
| PA7S-LV3-12L-020-3K7 | 3000 K | 70 CRI | 1161 lm | 53 | 22.0 W | Type III | |
| PA7S-LV3-12L-020-4K7 | 4000 K | 70 CRI | 1168 lm | 54 | 22.0 W | Type III | |
| PA7S-LV3-12L-020-5K7 | 5000 K | 70 CRI | 1243 lm | 57 | 22.0 W | Type III | |
| PA7S-LV3HS-12L-010-3K7 | 3000 K | 70 CRI | 688 lm | 49 | 14.0 W | Type III + House side shield | |
| PA7S-LV3HS-12L-010-4K7 | 4000 K | 70 CRI | 692 lm | 49 | 14.0 W | Type III + House side shield | |
| PA7S-LV3HS-12L-010-5K7 | 5000 K | 70 CRI | 737 lm | 53 | 14.0 W | Type III + House side shield | |
| PA7S-LV3HS-12L-020-3K7 | 3000 K | 70 CRI | 927 lm | 43 | 22.0 W | Type III + House side shield | |
| PA7S-LV3HS-12L-020-4K7 | 4000 K | 70 CRI | 932 lm | 43 | 22.0 W | Type III + House side shield | |
| PA7S-LV3HS-12L-020-5K7 | 5000 K | 70 CRI | 992 lm | 46 | 22.0 W | Type III + House side shield | |
| PA7S-LV4-12L-010-3K7 | 3000 K | 70 CRI | 923 lm | 66 | 14.0 W | Type IV | |
| PA7S-LV4-12L-010-4K7 | 4000 K | 70 CRI | 928 lm | 66 | 14.0 W | Type IV | |
| PA7S-LV4-12L-010-5K7 | 5000 K | 70 CRI | 988 lm | 71 | 14.0 W | Type IV | |
| PA7S-LV4-12L-020-3K7 | 3000 K | 70 CRI | 1243 lm | 57 | 22.0 W | Type IV | |
| PA7S-LV4-12L-020-4K7 | 4000 K | 70 CRI | 1250 lm | 58 | 22.0 W | Type IV | |
| PA7S-LV4-12L-020-5K7 | 5000 K | 70 CRI | 1331 lm | 61 | 22.0 W | Type IV | |
| PA7S-LV5-12L-010-3K7 | 3000 K | 70 CRI | 917 lm | 66 | 14.0 W | Type V | |
| PA7S-LV5-12L-010-4K7 | 4000 K | 70 CRI | 922 lm | 66 | 14.0 W | Type V | |
| PA7S-LV5-12L-010-5K7 | 5000 K | 70 CRI | 982 lm | 70 | 14.0 W | Type V | |
| PA7S-LV5-12L-020-3K7 | 3000 K | 70 CRI | 1235 lm | 57 | 22.0 W | Type V | |
| PA7S-LV5-12L-020-4K7 | 4000 K | 70 CRI | 1242 lm | 57 | 22.0 W | Type V | |
| PA7S-LV5-12L-020-5K7 | 5000 K | 70 CRI | 1323 lm | 61 | 22.0 W | Type V | |
| PA7S-NU1-12L-010-3K7 | 3000 K | 70 CRI | 673 lm | 48 | 14.0 W | Type I | |
| PA7S-NU1-12L-010-4K7 | 4000 K | 70 CRI | 677 lm | 48 | 14.0 W | Type I | |
| PA7S-NU1-12L-010-5K7 | 5000 K | 70 CRI | 721 lm | 51 | 14.0 W | Type I | |
| PA7S-NU1-12L-020-3K7 | 3000 K | 70 CRI | 1019 lm | 47 | 22.0 W | Type I | |
| PA7S-NU1-12L-020-4K7 | 4000 K | 70 CRI | 1025 lm | 47 | 22.0 W | Type I | |
| PA7S-NU1-12L-020-5K7 | 5000 K | 70 CRI | 1091 lm | 50 | 22.0 W | Type I | |
| PA7S-NU2-12L-010-3K7 | 3000 K | 70 CRI | 798 lm | 57 | 14.0 W | Type II | |
| PA7S-NU2-12L-010-4K7 | 4000 K | 70 CRI | 803 lm | 57 | 14.0 W | Type II | |
| PA7S-NU2-12L-010-5K7 | 5000 K | 70 CRI | 855 lm | 61 | 14.0 W | Type II | |
| PA7S-NU2-12L-020-3K7 | 3000 K | 70 CRI | 1209 lm | 56 | 22.0 W | Type II | |
| PA7S-NU2-12L-020-4K7 | 4000 K | 70 CRI | 1216 lm | 56 | 22.0 W | Type II | |
| PA7S-NU2-12L-020-5K7 | 5000 K | 70 CRI | 1294 lm | 60 | 22.0 W | Type II | |
| PA7S-NU3-12L-010-3K7 | 3000 K | 70 CRI | 795 lm | 57 | 14.0 W | Type III | |
| PA7S-NU3-12L-010-4K7 | 4000 K | 70 CRI | 800 lm | 57 | 14.0 W | Type III | |
| PA7S-NU3-12L-010-5K7 | 5000 K | 70 CRI | 851 lm | 61 | 14.0 W | Type III | |
| PA7S-NU3-12L-020-3K7 | 3000 K | 70 CRI | 1203 lm | 55 | 22.0 W | Type III | |
| PA7S-NU3-12L-020-4K7 | 4000 K | 70 CRI | 1210 lm | 56 | 22.0 W | Type III | |
| PA7S-NU3-12L-020-5K7 | 5000 K | 70 CRI | 1289 lm | 59 | 22.0 W | Type III | |
| PA7S-NU3HS-12L-010-3K7 | 3000 K | 70 CRI | 748 lm | 53 | 14.0 W | Type III + House side shield | |
| PA7S-NU3HS-12L-010-4K7 | 4000 K | 70 CRI | 752 lm | 54 | 14.0 W | Type III + House side shield | |
| PA7S-NU3HS-12L-010-5K7 | 5000 K | 70 CRI | 800 lm | 57 | 14.0 W | Type III + House side shield | |
| PA7S-NU3HS-12L-020-3K7 | 3000 K | 70 CRI | 1132 lm | 52 | 22.0 W | Type III + House side shield | |
| PA7S-NU3HS-12L-020-4K7 | 4000 K | 70 CRI | 1138 lm | 52 | 22.0 W | Type III + House side shield | |
| PA7S-NU3HS-12L-020-5K7 | 5000 K | 70 CRI | 1212 lm | 56 | 22.0 W | Type III + House side shield | |
| PA7S-NU4-12L-010-3K7 | 3000 K | 70 CRI | 879 lm | 63 | 14.0 W | Type IV | |
| PA7S-NU4-12L-010-4K7 | 4000 K | 70 CRI | 883 lm | 63 | 14.0 W | Type IV | |
| PA7S-NU4-12L-010-5K7 | 5000 K | 70 CRI | 941 lm | 67 | 14.0 W | Type IV | |
| PA7S-NU4-12L-020-3K7 | 3000 K | 70 CRI | 1330 lm | 61 | 22.0 W | Type IV | |
| PA7S-NU4-12L-020-4K7 | 4000 K | 70 CRI | 1337 lm | 62 | 22.0 W | Type IV | |
| PA7S-NU4-12L-020-5K7 | 5000 K | 70 CRI | 1424 lm | 66 | 22.0 W | Type IV | |
| PA7S-NU5-12L-010-3K7 | 3000 K | 70 CRI | 841 lm | 60 | 14.0 W | Type V | |
| PA7S-NU5-12L-010-4K7 | 4000 K | 70 CRI | 846 lm | 60 | 14.0 W | Type V | |
| PA7S-NU5-12L-010-5K7 | 5000 K | 70 CRI | 901 lm | 64 | 14.0 W | Type V | |
| PA7S-NU5-12L-020-3K7 | 3000 K | 70 CRI | 1273 lm | 59 | 22.0 W | Type V | |
| PA7S-NU5-12L-020-4K7 | 4000 K | 70 CRI | 1281 lm | 59 | 22.0 W | Type V | |
| PA7S-NU5-12L-020-5K7 | 5000 K | 70 CRI | 1363 lm | 63 | 22.0 W | Type V | |