text.skipToContent
text.skipToNavigation
Litecontrol's Vora was created with the future in mind by pushing the boundaries of the current landscape of recessed products.
Featuring the newest generation of LED edge-lit technology, two laser etched acrylic panels emit a perfectly uniform diffused surface while utilizing our patented center mixing chamber to disperse excess light. Extruded and cast aluminum components complete a quality construction that is unmatched. The result is one of the thinnest architectural troffers with a unique take on the traditional aesthetic.

SLEEK
2.2" fixture depth, reducing plenum space

EFFICIENT
Edge-lit light guides for perfectly uniform appearance of up to 8000 lumens and up to 120 lm/W in select configurations

CUSTOMIZABLE
Five size options, four visual options, three finish options


FIVE SIZES
1' x 1', 1' x 2', 2' x 2', 1' x 4', 2' x 4'

THREE VISUALS
Open, Lens, Decorative

THREE FINISHES
Carbon Black, Machined Aluminum, Matte White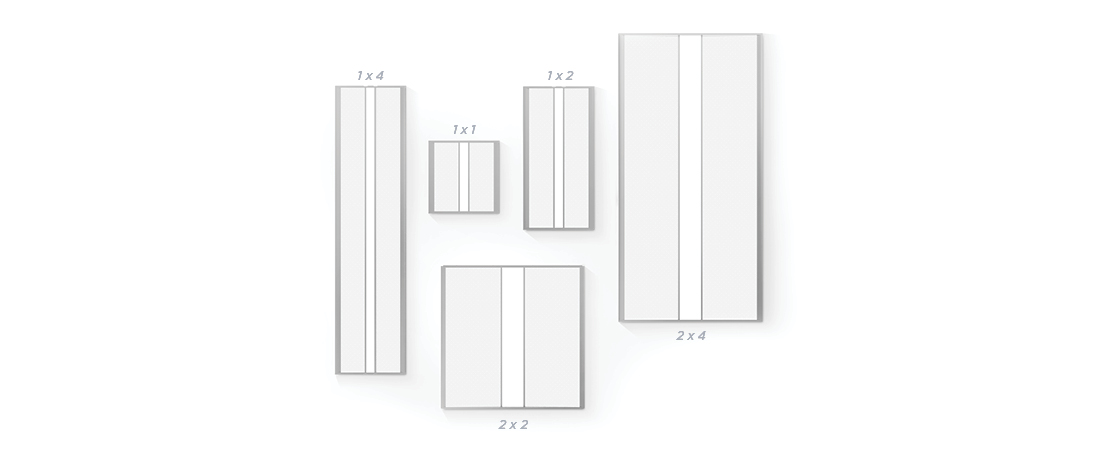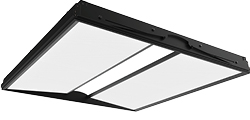 OPEN
The Open visual allows for direct view to the center mixing chamber reflector. A fresh new look to the architectural market.
LENS
The Lens visual allows for a more traditional look by incorporating a third lens into the fixture.

CONSTRUCTION
LED boards located at the sides of the fixture direct the light through the acrylic light guides. The light collides with the laser etched optics in the lens to direct the light into the room. Excess light spills into the center mixing chamber and is recycled back out into the space. The result is uniform light throughout the entire appearance of the fixture.

MOUNTING OPTIONS
Vora's universal frame design allows for interface with mulitple ceiling types. A single bracket is added to allow adaption to 9/16th narrow grid.

The use of light guides allows for the full lumen output to be spread across the fixture rather than a single, visible source. This results in a reduction of glare and a visually comfortable, quiet appearance.
Utilizing edge-lit technology allows for a significant reduction in fixture space, resulting in a depth that virtually eliminates plenum fit concerns.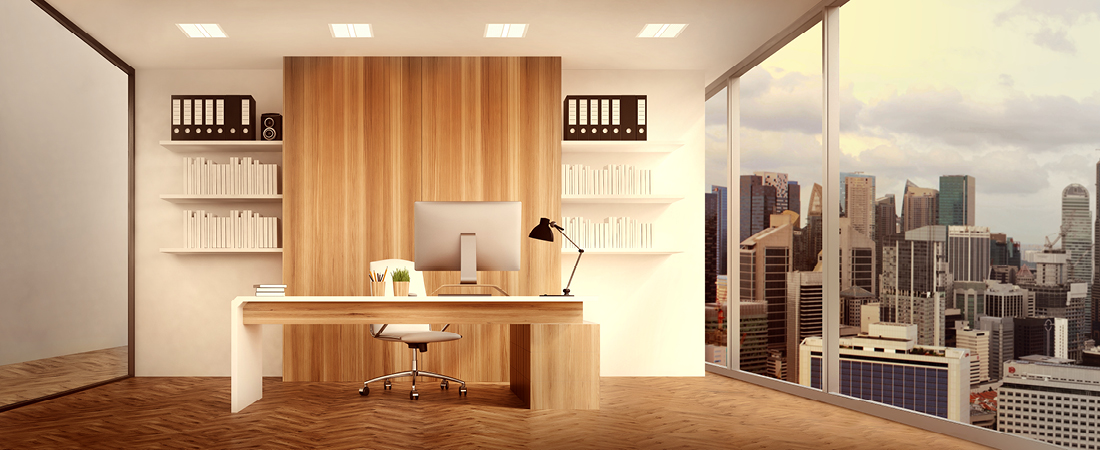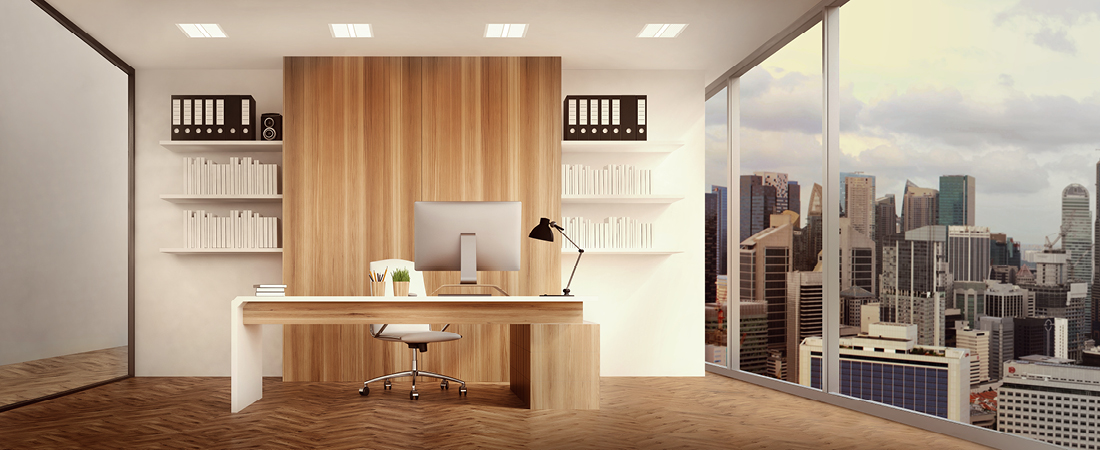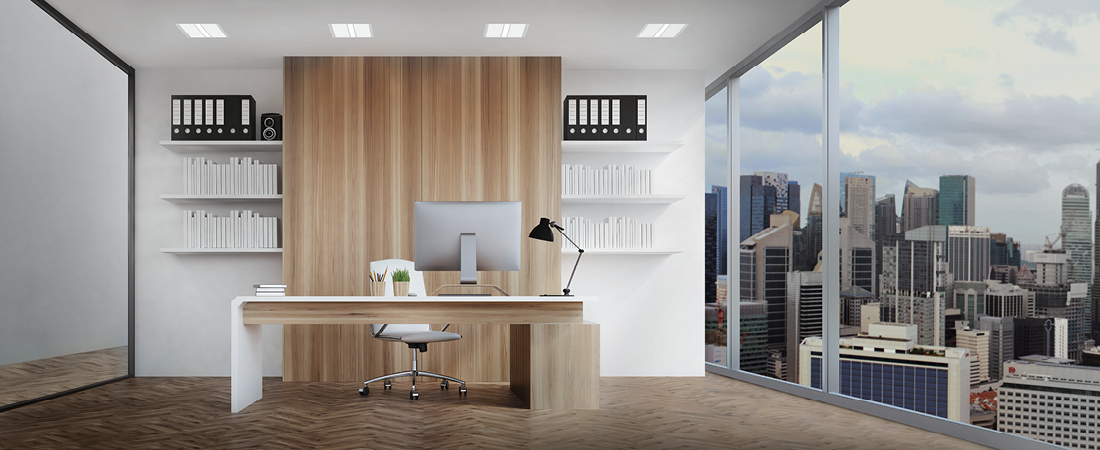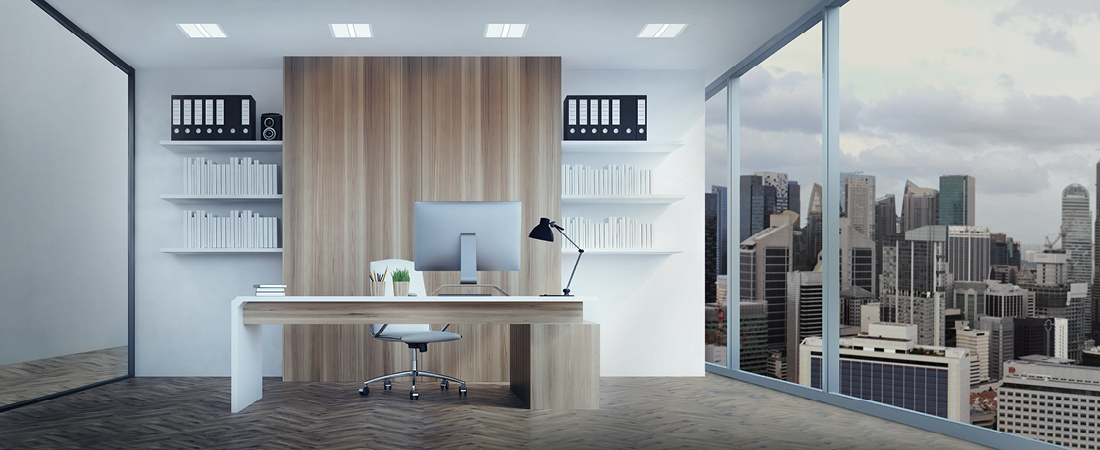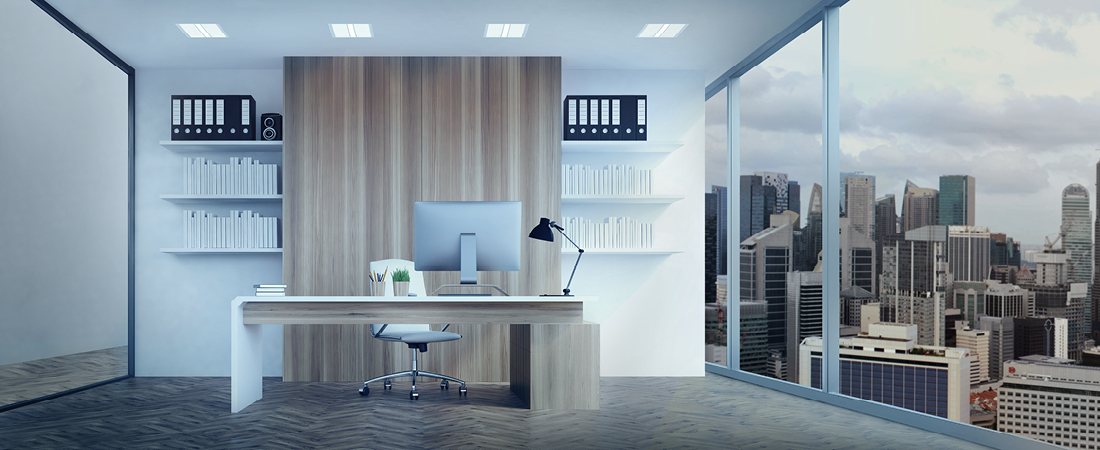 SpectraSync™ is an easy and intuitive white tuning solution offered in two modes to accommodate a variety of applications.
DIM TO WARM
Dim to Warm mimics the familiar warming effect that occurs with traditional incandescent sources as they are dimmed. (Available with 2200K-3000K)
TUNABLE WHITE
Tunable White offers users the ability to tailor CCT to their personal preference, enhancing task visibility, material and colors, or the aesthetics of the space. (Available with 2700K-5000K or 2700K-6500K)
Product Details
General
Application

Healthcare
Libraries
Offices
Public Spaces

Type
Architectural Troffers
Resources and Downloads
Photometry (208)
| Product Name | Color Temp | CRI | Lumens | Lm/W | Watts | Dist. Type | Resources |
| --- | --- | --- | --- | --- | --- | --- | --- |
| 50L-X-D-11-SOF-CX-35K-D10 | 3500 °K | 80 CRI | 1000 lm | 80 | 13 W | Direct: Lambertian | |
| 50L-X-D-11-SOF-CX-35K-D11 | 3500 °K | 80 CRI | 1100 lm | 80 | 14 W | Direct: Lambertian | |
| 50L-X-D-11-SOF-CX-35K-D12 | 3500 °K | 80 CRI | 1200 lm | 80 | 15 W | Direct: Lambertian | |
| 50L-X-D-11-SOF-CX-35K-D13 | 3500 °K | 80 CRI | 1300 lm | 80 | 16 W | Direct: Lambertian | |
| 50L-X-D-11-SOF-CX-35K-D14 | 3500 °K | 80 CRI | 1400 lm | 79 | 18 W | Direct: Lambertian | |
| 50L-X-D-11-SOF-CX-35K-D15 | 3500 °K | 80 CRI | 1500 lm | 79 | 19 W | Direct: Lambertian | |
| 50L-X-D-11-SOF-CX-35K-D16 | 3500 °K | 80 CRI | 1600 lm | 78 | 20 W | Direct: Lambertian | |
| 50L-X-D-11-SOF-CX-35K-D17 | 3500 °K | 80 CRI | 1700 lm | 78 | 22 W | Direct: Lambertian | |
| 50L-X-D-11-SOF-CX-35K-D18 | 3500 °K | 80 CRI | 1800 lm | 78 | 23 W | Direct: Lambertian | |
| 50L-X-D-11-SOF-CX-35K-D19 | 3500 °K | 80 CRI | 1900 lm | 77 | 25 W | Direct: Lambertian | |
| 50L-X-D-11-SOF-CX-35K-D20 | 3500 °K | 80 CRI | 2000 lm | 77 | 26 W | Direct: Lambertian | |
| 50L-X-D-11-SOF-CX-35K-D21 | 3500 °K | 80 CRI | 2100 lm | 77 | 27 W | Direct: Lambertian | |
| 50L-X-D-11-SOF-CX-35K-D22 | 3500 °K | 80 CRI | 2200 lm | 76 | 29 W | Direct: Lambertian | |
| 50L-X-D-11-SOF-CX-35K-D23 | 3500 °K | 80 CRI | 2300 lm | 76 | 30 W | Direct: Lambertian | |
| 50L-X-D-11-SOF-CX-35K-D24 | 3500 °K | 80 CRI | 2400 lm | 75 | 32 W | Direct: Lambertian | |
| 50L-X-D-11-SOF-CX-35K-D25 | 3500 °K | 80 CRI | 2500 lm | 74 | 34 W | Direct: Lambertian | |
| 50L-X-D-11-SOF-CX-35K-D26 | 3500 °K | 80 CRI | 2600 lm | 74 | 35 W | Direct: Lambertian | |
| 50L-X-D-11-SOF-CX-35K-D27 | 3500 °K | 80 CRI | 2700 lm | 73 | 37 W | Direct: Lambertian | |
| 50L-X-D-11-SOF-CX-35K-D28 | 3500 °K | 80 CRI | 2800 lm | 73 | 38 W | Direct: Lambertian | |
| 50L-X-D-11-SOF-CX-35K-D29 | 3500 °K | 80 CRI | 2900 lm | 72 | 40 W | Direct: Lambertian | |
| 50L-X-D-12-SOF-CX-35K-D10 | 3500 °K | 80 CRI | 1000 lm | 90 | 11 W | Direct: Lambertian | |
| 50L-X-D-12-SOF-CX-35K-D11 | 3500 °K | 80 CRI | 1100 lm | 90 | 12 W | Direct: Lambertian | |
| 50L-X-D-12-SOF-CX-35K-D12 | 3500 °K | 80 CRI | 1200 lm | 89 | 13 W | Direct: Lambertian | |
| 50L-X-D-12-SOF-CX-35K-D13 | 3500 °K | 80 CRI | 1300 lm | 89 | 15 W | Direct: Lambertian | |
| 50L-X-D-12-SOF-CX-35K-D14 | 3500 °K | 80 CRI | 1400 lm | 89 | 16 W | Direct: Lambertian | |
| 50L-X-D-12-SOF-CX-35K-D15 | 3500 °K | 80 CRI | 1500 lm | 89 | 17 W | Direct: Lambertian | |
| 50L-X-D-12-SOF-CX-35K-D16 | 3500 °K | 80 CRI | 1600 lm | 89 | 18 W | Direct: Lambertian | |
| 50L-X-D-12-SOF-CX-35K-D17 | 3500 °K | 80 CRI | 1700 lm | 89 | 19 W | Direct: Lambertian | |
| 50L-X-D-12-SOF-CX-35K-D18 | 3500 °K | 80 CRI | 1800 lm | 89 | 20 W | Direct: Lambertian | |
| 50L-X-D-12-SOF-CX-35K-D19 | 3500 °K | 80 CRI | 1900 lm | 89 | 21 W | Direct: Lambertian | |
| 50L-X-D-12-SOF-CX-35K-D20 | 3500 °K | 80 CRI | 2000 lm | 89 | 22 W | Direct: Lambertian | |
| 50L-X-D-12-SOF-CX-35K-D21 | 3500 °K | 80 CRI | 2100 lm | 89 | 24 W | Direct: Lambertian | |
| 50L-X-D-12-SOF-CX-35K-D22 | 3500 °K | 80 CRI | 2200 lm | 89 | 25 W | Direct: Lambertian | |
| 50L-X-D-12-SOF-CX-35K-D23 | 3500 °K | 80 CRI | 2300 lm | 89 | 26 W | Direct: Lambertian | |
| 50L-X-D-12-SOF-CX-35K-D24 | 3500 °K | 80 CRI | 2400 lm | 89 | 27 W | Direct: Lambertian | |
| 50L-X-D-12-SOF-CX-35K-D25 | 3500 °K | 80 CRI | 2500 lm | 89 | 28 W | Direct: Lambertian | |
| 50L-X-D-12-SOF-CX-35K-D26 | 3500 °K | 80 CRI | 2600 lm | 88 | 29 W | Direct: Lambertian | |
| 50L-X-D-12-SOF-CX-35K-D27 | 3500 °K | 80 CRI | 2700 lm | 88 | 31 W | Direct: Lambertian | |
| 50L-X-D-12-SOF-CX-35K-D28 | 3500 °K | 80 CRI | 2800 lm | 88 | 32 W | Direct: Lambertian | |
| 50L-X-D-12-SOF-CX-35K-D29 | 3500 °K | 80 CRI | 2900 lm | 87 | 33 W | Direct: Lambertian | |
| 50L-X-D-12-SOF-CX-35K-D30 | 3500 °K | 80 CRI | 3000 lm | 87 | 34 W | Direct: Lambertian | |
| 50L-X-D-12-SOF-CX-35K-D31 | 3500 °K | 80 CRI | 3100 lm | 87 | 36 W | Direct: Lambertian | |
| 50L-X-D-12-SOF-CX-35K-D32 | 3500 °K | 80 CRI | 3200 lm | 89 | 36 W | Direct: Lambertian | |
| 50L-X-D-12-SOF-CX-35K-D33 | 3500 °K | 80 CRI | 3300 lm | 86 | 38 W | Direct: Lambertian | |
| 50L-X-D-12-SOF-CX-35K-D34 | 3500 °K | 80 CRI | 3400 lm | 86 | 39 W | Direct: Lambertian | |
| 50L-X-D-12-SOF-CX-35K-D35 | 3500 °K | 80 CRI | 3500 lm | 86 | 41 W | Direct: Lambertian | |
| 50L-X-D-12-SOF-CX-35K-D36 | 3500 °K | 80 CRI | 3600 lm | 85 | 42 W | Direct: Lambertian | |
| 50L-X-D-12-SOF-CX-35K-D37 | 3500 °K | 80 CRI | 3700 lm | 85 | 44 W | Direct: Lambertian | |
| 50L-X-D-12-SOF-CX-35K-D38 | 3500 °K | 80 CRI | 3800 lm | 84 | 45 W | Direct: Lambertian | |
| 50L-X-D-12-SOF-CX-35K-D39 | 3500 °K | 80 CRI | 3900 lm | 84 | 46 W | Direct: Lambertian | |
| 50L-X-D-12-SOF-CX-35K-D40 | 3500 °K | 80 CRI | 4000 lm | 84 | 48 W | Direct: Lambertian | |
| 50L-X-D-12-SOF-CX-35K-D41 | 3500 °K | 80 CRI | 4100 lm | 83 | 49 W | Direct: Lambertian | |
| 50L-X-D-12-SOF-CX-35K-D42 | 3500 °K | 80 CRI | 4200 lm | 83 | 51 W | Direct: Lambertian | |
| 50L-X-D-14-SOF-CX-35K-D16 | 3500 °K | 80 CRI | 1600 lm | 106 | 15 W | Direct: Lambertian | |
| 50L-X-D-14-SOF-CX-35K-D17 | 3500 °K | 80 CRI | 1700 lm | 106 | 16 W | Direct: Lambertian | |
| 50L-X-D-14-SOF-CX-35K-D18 | 3500 °K | 80 CRI | 1800 lm | 106 | 17 W | Direct: Lambertian | |
| 50L-X-D-14-SOF-CX-35K-D19 | 3500 °K | 80 CRI | 1900 lm | 106 | 18 W | Direct: Lambertian | |
| 50L-X-D-14-SOF-CX-35K-D20 | 3500 °K | 80 CRI | 2000 lm | 106 | 19 W | Direct: Lambertian | |
| 50L-X-D-14-SOF-CX-35K-D21 | 3500 °K | 80 CRI | 2100 lm | 106 | 20 W | Direct: Lambertian | |
| 50L-X-D-14-SOF-CX-35K-D22 | 3500 °K | 80 CRI | 2200 lm | 106 | 21 W | Direct: Lambertian | |
| 50L-X-D-14-SOF-CX-35K-D23 | 3500 °K | 80 CRI | 2300 lm | 106 | 22 W | Direct: Lambertian | |
| 50L-X-D-14-SOF-CX-35K-D24 | 3500 °K | 80 CRI | 2400 lm | 106 | 23 W | Direct: Lambertian | |
| 50L-X-D-14-SOF-CX-35K-D25 | 3500 °K | 80 CRI | 2500 lm | 106 | 24 W | Direct: Lambertian | |
| 50L-X-D-14-SOF-CX-35K-D26 | 3500 °K | 80 CRI | 2600 lm | 106 | 25 W | Direct: Lambertian | |
| 50L-X-D-14-SOF-CX-35K-D27 | 3500 °K | 80 CRI | 2700 lm | 106 | 25 W | Direct: Lambertian | |
| 50L-X-D-14-SOF-CX-35K-D28 | 3500 °K | 80 CRI | 2800 lm | 106 | 26 W | Direct: Lambertian | |
| 50L-X-D-14-SOF-CX-35K-D29 | 3500 °K | 80 CRI | 2900 lm | 106 | 27 W | Direct: Lambertian | |
| 50L-X-D-14-SOF-CX-35K-D30 | 3500 °K | 80 CRI | 3000 lm | 106 | 28 W | Direct: Lambertian | |
| 50L-X-D-14-SOF-CX-35K-D31 | 3500 °K | 80 CRI | 3100 lm | 106 | 29 W | Direct: Lambertian | |
| 50L-X-D-14-SOF-CX-35K-D32 | 3500 °K | 80 CRI | 3200 lm | 105 | 30 W | Direct: Lambertian | |
| 50L-X-D-14-SOF-CX-35K-D33 | 3500 °K | 80 CRI | 3300 lm | 105 | 31 W | Direct: Lambertian | |
| 50L-X-D-14-SOF-CX-35K-D34 | 3500 °K | 80 CRI | 3400 lm | 105 | 32 W | Direct: Lambertian | |
| 50L-X-D-14-SOF-CX-35K-D35 | 3500 °K | 80 CRI | 3500 lm | 105 | 33 W | Direct: Lambertian | |
| 50L-X-D-14-SOF-CX-35K-D36 | 3500 °K | 80 CRI | 3600 lm | 105 | 34 W | Direct: Lambertian | |
| 50L-X-D-14-SOF-CX-35K-D37 | 3500 °K | 80 CRI | 3700 lm | 105 | 35 W | Direct: Lambertian | |
| 50L-X-D-14-SOF-CX-35K-D38 | 3500 °K | 80 CRI | 3800 lm | 105 | 36 W | Direct: Lambertian | |
| 50L-X-D-14-SOF-CX-35K-D39 | 3500 °K | 80 CRI | 3900 lm | 104 | 37 W | Direct: Lambertian | |
| 50L-X-D-14-SOF-CX-35K-D40 | 3500 °K | 80 CRI | 4000 lm | 104 | 38 W | Direct: Lambertian | |
| 50L-X-D-14-SOF-CX-35K-D41 | 3500 °K | 80 CRI | 4100 lm | 104 | 39 W | Direct: Lambertian | |
| 50L-X-D-14-SOF-CX-35K-D42 | 3500 °K | 80 CRI | 4200 lm | 104 | 41 W | Direct: Lambertian | |
| 50L-X-D-14-SOF-CX-35K-D43 | 3500 °K | 80 CRI | 4300 lm | 103 | 42 W | Direct: Lambertian | |
| 50L-X-D-14-SOF-CX-35K-D44 | 3500 °K | 80 CRI | 4400 lm | 103 | 43 W | Direct: Lambertian | |
| 50L-X-D-14-SOF-CX-35K-D45 | 3500 °K | 80 CRI | 4500 lm | 103 | 44 W | Direct: Lambertian | |
| 50L-X-D-14-SOF-CX-35K-D46 | 3500 °K | 80 CRI | 4600 lm | 103 | 45 W | Direct: Lambertian | |
| 50L-X-D-14-SOF-CX-35K-D47 | 3500 °K | 80 CRI | 4700 lm | 102 | 46 W | Direct: Lambertian | |
| 50L-X-D-14-SOF-CX-35K-D48 | 3500 °K | 80 CRI | 4800 lm | 102 | 47 W | Direct: Lambertian | |
| 50L-X-D-14-SOF-CX-35K-D49 | 3500 °K | 80 CRI | 4900 lm | 102 | 48 W | Direct: Lambertian | |
| 50L-X-D-14-SOF-CX-35K-D50 | 3500 °K | 80 CRI | 5000 lm | 102 | 49 W | Direct: Lambertian | |
| 50L-X-D-14-SOF-CX-35K-D51 | 3500 °K | 80 CRI | 5100 lm | 101 | 50 W | Direct: Lambertian | |
| 50L-X-D-14-SOF-CX-35K-D52 | 3500 °K | 80 CRI | 5200 lm | 101 | 51 W | Direct: Lambertian | |
| 50L-X-D-14-SOF-CX-35K-D53 | 3500 °K | 80 CRI | 5300 lm | 101 | 52 W | Direct: Lambertian | |
| 50L-X-D-14-SOF-CX-35K-D54 | 3500 °K | 80 CRI | 5400 lm | 101 | 53 W | Direct: Lambertian | |
| 50L-X-D-14-SOF-CX-35K-D55 | 3500 °K | 80 CRI | 5500 lm | 101 | 55 W | Direct: Lambertian | |
| 50L-X-D-22-SOF-CX-35K-D10 | 3500 °K | 80 CRI | 1000 lm | 120 | 8 W | Direct: Lambertian | |
| 50L-X-D-22-SOF-CX-35K-D11 | 3500 °K | 80 CRI | 1100 lm | 120 | 9 W | Direct: Lambertian | |
| 50L-X-D-22-SOF-CX-35K-D12 | 3500 °K | 80 CRI | 1200 lm | 120 | 10 W | Direct: Lambertian | |
| 50L-X-D-22-SOF-CX-35K-D13 | 3500 °K | 80 CRI | 1300 lm | 120 | 11 W | Direct: Lambertian | |
| 50L-X-D-22-SOF-CX-35K-D14 | 3500 °K | 80 CRI | 1400 lm | 120 | 12 W | Direct: Lambertian | |
| 50L-X-D-22-SOF-CX-35K-D15 | 3500 °K | 80 CRI | 1500 lm | 120 | 13 W | Direct: Lambertian | |
| 50L-X-D-22-SOF-CX-35K-D16 | 3500 °K | 80 CRI | 1600 lm | 120 | 13 W | Direct: Lambertian | |
| 50L-X-D-22-SOF-CX-35K-D17 | 3500 °K | 80 CRI | 1700 lm | 120 | 14 W | Direct: Lambertian | |
| 50L-X-D-22-SOF-CX-35K-D18 | 3500 °K | 80 CRI | 1800 lm | 120 | 15 W | Direct: Lambertian | |
| 50L-X-D-22-SOF-CX-35K-D19 | 3500 °K | 80 CRI | 1900 lm | 120 | 16 W | Direct: Lambertian | |
| 50L-X-D-22-SOF-CX-35K-D20 | 3500 °K | 80 CRI | 2000 lm | 120 | 17 W | Direct: Lambertian | |
| 50L-X-D-22-SOF-CX-35K-D21 | 3500 °K | 80 CRI | 2100 lm | 120 | 18 W | Direct: Lambertian | |
| 50L-X-D-22-SOF-CX-35K-D22 | 3500 °K | 80 CRI | 2200 lm | 120 | 18 W | Direct: Lambertian | |
| 50L-X-D-22-SOF-CX-35K-D23 | 3500 °K | 80 CRI | 2300 lm | 120 | 19 W | Direct: Lambertian | |
| 50L-X-D-22-SOF-CX-35K-D24 | 3500 °K | 80 CRI | 2400 lm | 120 | 20 W | Direct: Lambertian | |
| 50L-X-D-22-SOF-CX-35K-D25 | 3500 °K | 80 CRI | 2500 lm | 120 | 21 W | Direct: Lambertian | |
| 50L-X-D-22-SOF-CX-35K-D26 | 3500 °K | 80 CRI | 2600 lm | 120 | 22 W | Direct: Lambertian | |
| 50L-X-D-22-SOF-CX-35K-D27 | 3500 °K | 80 CRI | 2700 lm | 120 | 23 W | Direct: Lambertian | |
| 50L-X-D-22-SOF-CX-35K-D28 | 3500 °K | 80 CRI | 2800 lm | 120 | 23 W | Direct: Lambertian | |
| 50L-X-D-22-SOF-CX-35K-D29 | 3500 °K | 80 CRI | 2900 lm | 120 | 24 W | Direct: Lambertian | |
| 50L-X-D-22-SOF-CX-35K-D30 | 3500 °K | 80 CRI | 3000 lm | 120 | 25 W | Direct: Lambertian | |
| 50L-X-D-22-SOF-CX-35K-D31 | 3500 °K | 80 CRI | 3100 lm | 120 | 26 W | Direct: Lambertian | |
| 50L-X-D-22-SOF-CX-35K-D32 | 3500 °K | 80 CRI | 3200 lm | 120 | 27 W | Direct: Lambertian | |
| 50L-X-D-22-SOF-CX-35K-D33 | 3500 °K | 80 CRI | 3300 lm | 119 | 28 W | Direct: Lambertian | |
| 50L-X-D-22-SOF-CX-35K-D34 | 3500 °K | 80 CRI | 3400 lm | 119 | 29 W | Direct: Lambertian | |
| 50L-X-D-22-SOF-CX-35K-D35 | 3500 °K | 80 CRI | 3500 lm | 118 | 30 W | Direct: Lambertian | |
| 50L-X-D-22-SOF-CX-35K-D36 | 3500 °K | 80 CRI | 3600 lm | 118 | 31 W | Direct: Lambertian | |
| 50L-X-D-22-SOF-CX-35K-D37 | 3500 °K | 80 CRI | 3700 lm | 118 | 31 W | Direct: Lambertian | |
| 50L-X-D-22-SOF-CX-35K-D38 | 3500 °K | 80 CRI | 3800 lm | 117 | 32 W | Direct: Lambertian | |
| 50L-X-D-22-SOF-CX-35K-D39 | 3500 °K | 80 CRI | 3900 lm | 117 | 33 W | Direct: Lambertian | |
| 50L-X-D-22-SOF-CX-35K-D40 | 3500 °K | 80 CRI | 4000 lm | 117 | 34 W | Direct: Lambertian | |
| 50L-X-D-22-SOF-CX-35K-D41 | 3500 °K | 80 CRI | 4100 lm | 117 | 35 W | Direct: Lambertian | |
| 50L-X-D-22-SOF-CX-35K-D42 | 3500 °K | 80 CRI | 4200 lm | 116 | 36 W | Direct: Lambertian | |
| 50L-X-D-22-SOF-CX-35K-D43 | 3500 °K | 80 CRI | 4300 lm | 116 | 37 W | Direct: Lambertian | |
| 50L-X-D-22-SOF-CX-35K-D44 | 3500 °K | 80 CRI | 4400 lm | 116 | 38 W | Direct: Lambertian | |
| 50L-X-D-22-SOF-CX-35K-D45 | 3500 °K | 80 CRI | 4500 lm | 115 | 39 W | Direct: Lambertian | |
| 50L-X-D-22-SOF-CX-35K-D46 | 3500 °K | 80 CRI | 4600 lm | 115 | 40 W | Direct: Lambertian | |
| 50L-X-D-22-SOF-CX-35K-D47 | 3500 °K | 80 CRI | 4700 lm | 115 | 41 W | Direct: Lambertian | |
| 50L-X-D-22-SOF-CX-35K-D48 | 3500 °K | 80 CRI | 4800 lm | 114 | 42 W | Direct: Lambertian | |
| 50L-X-D-22-SOF-CX-35K-D49 | 3500 °K | 80 CRI | 4900 lm | 114 | 43 W | Direct: Lambertian | |
| 50L-X-D-22-SOF-CX-35K-D50 | 3500 °K | 80 CRI | 5000 lm | 113 | 44 W | Direct: Lambertian | |
| 50L-X-D-22-SOF-CX-35K-D51 | 3500 °K | 80 CRI | 5100 lm | 113 | 45 W | Direct: Lambertian | |
| 50L-X-D-22-SOF-CX-35K-D52 | 3500 °K | 80 CRI | 5200 lm | 113 | 46 W | Direct: Lambertian | |
| 50L-X-D-22-SOF-CX-35K-D53 | 3500 °K | 80 CRI | 5300 lm | 112 | 47 W | Direct: Lambertian | |
| 50L-X-D-22-SOF-CX-35K-D54 | 3500 °K | 80 CRI | 5400 lm | 112 | 48 W | Direct: Lambertian | |
| 50L-X-D-22-SOF-CX-35K-D55 | 3500 °K | 80 CRI | 5500 lm | 111 | 49 W | Direct: Lambertian | |
| 50L-X-D-22-SOF-CX-35K-D56 | 3500 °K | 80 CRI | 5600 lm | 111 | 51 W | Direct: Lambertian | |
| 50L-X-D-22-SOF-CX-35K-D57 | 3500 °K | 80 CRI | 5700 lm | 110 | 52 W | Direct: Lambertian | |
| 50L-X-D-22-SOF-CX-35K-D58 | 3500 °K | 80 CRI | 5800 lm | 110 | 53 W | Direct: Lambertian | |
| 50L-X-D-22-SOF-CX-35K-D59 | 3500 °K | 80 CRI | 5900 lm | 109 | 54 W | Direct: Lambertian | |
| 50L-X-D-22-SOF-CX-35K-D60 | 3500 °K | 80 CRI | 6000 lm | 109 | 55 W | Direct: Lambertian | |
| 50L-X-D-24-SOF-CX-35K-D17 | 3500 °K | 80 CRI | 1700 lm | 102 | 17 W | Direct: Lambertian | |
| 50L-X-D-24-SOF-CX-35K-D18 | 3500 °K | 80 CRI | 1800 lm | 102 | 18 W | Direct: Lambertian | |
| 50L-X-D-24-SOF-CX-35K-D19 | 3500 °K | 80 CRI | 1900 lm | 102 | 19 W | Direct: Lambertian | |
| 50L-X-D-24-SOF-CX-35K-D20 | 3500 °K | 80 CRI | 2000 lm | 102 | 20 W | Direct: Lambertian | |
| 50L-X-D-24-SOF-CX-35K-D21 | 3500 °K | 80 CRI | 2100 lm | 102 | 21 W | Direct: Lambertian | |
| 50L-X-D-24-SOF-CX-35K-D22 | 3500 °K | 80 CRI | 2200 lm | 102 | 22 W | Direct: Lambertian | |
| 50L-X-D-24-SOF-CX-35K-D23 | 3500 °K | 80 CRI | 2300 lm | 102 | 23 W | Direct: Lambertian | |
| 50L-X-D-24-SOF-CX-35K-D24 | 3500 °K | 80 CRI | 2400 lm | 102 | 23 W | Direct: Lambertian | |
| 50L-X-D-24-SOF-CX-35K-D25 | 3500 °K | 80 CRI | 2500 lm | 102 | 24 W | Direct: Lambertian | |
| 50L-X-D-24-SOF-CX-35K-D26 | 3500 °K | 80 CRI | 2600 lm | 102 | 25 W | Direct: Lambertian | |
| 50L-X-D-24-SOF-CX-35K-D27 | 3500 °K | 80 CRI | 2700 lm | 102 | 26 W | Direct: Lambertian | |
| 50L-X-D-24-SOF-CX-35K-D28 | 3500 °K | 80 CRI | 2800 lm | 102 | 27 W | Direct: Lambertian | |
| 50L-X-D-24-SOF-CX-35K-D29 | 3500 °K | 80 CRI | 2900 lm | 102 | 28 W | Direct: Lambertian | |
| 50L-X-D-24-SOF-CX-35K-D30 | 3500 °K | 80 CRI | 3000 lm | 102 | 29 W | Direct: Lambertian | |
| 50L-X-D-24-SOF-CX-35K-D31 | 3500 °K | 80 CRI | 3100 lm | 102 | 30 W | Direct: Lambertian | |
| 50L-X-D-24-SOF-CX-35K-D32 | 3500 °K | 80 CRI | 3200 lm | 102 | 31 W | Direct: Lambertian | |
| 50L-X-D-24-SOF-CX-35K-D33 | 3500 °K | 80 CRI | 3300 lm | 102 | 32 W | Direct: Lambertian | |
| 50L-X-D-24-SOF-CX-35K-D34 | 3500 °K | 80 CRI | 3400 lm | 102 | 33 W | Direct: Lambertian | |
| 50L-X-D-24-SOF-CX-35K-D35 | 3500 °K | 80 CRI | 3500 lm | 102 | 34 W | Direct: Lambertian | |
| 50L-X-D-24-SOF-CX-35K-D36 | 3500 °K | 80 CRI | 3600 lm | 102 | 35 W | Direct: Lambertian | |
| 50L-X-D-24-SOF-CX-35K-D37 | 3500 °K | 80 CRI | 3700 lm | 102 | 36 W | Direct: Lambertian | |
| 50L-X-D-24-SOF-CX-35K-D38 | 3500 °K | 80 CRI | 3800 lm | 102 | 37 W | Direct: Lambertian | |
| 50L-X-D-24-SOF-CX-35K-D39 | 3500 °K | 80 CRI | 3900 lm | 102 | 38 W | Direct: Lambertian | |
| 50L-X-D-24-SOF-CX-35K-D40 | 3500 °K | 80 CRI | 4000 lm | 102 | 39 W | Direct: Lambertian | |
| 50L-X-D-24-SOF-CX-35K-D41 | 3500 °K | 80 CRI | 4100 lm | 102 | 40 W | Direct: Lambertian | |
| 50L-X-D-24-SOF-CX-35K-D42 | 3500 °K | 80 CRI | 4200 lm | 102 | 41 W | Direct: Lambertian | |
| 50L-X-D-24-SOF-CX-35K-D43 | 3500 °K | 80 CRI | 4300 lm | 102 | 42 W | Direct: Lambertian | |
| 50L-X-D-24-SOF-CX-35K-D44 | 3500 °K | 80 CRI | 4400 lm | 102 | 43 W | Direct: Lambertian | |
| 50L-X-D-24-SOF-CX-35K-D45 | 3500 °K | 80 CRI | 4500 lm | 102 | 44 W | Direct: Lambertian | |
| 50L-X-D-24-SOF-CX-35K-D46 | 3500 °K | 80 CRI | 4600 lm | 102 | 45 W | Direct: Lambertian | |
| 50L-X-D-24-SOF-CX-35K-D47 | 3500 °K | 80 CRI | 4700 lm | 102 | 46 W | Direct: Lambertian | |
| 50L-X-D-24-SOF-CX-35K-D48 | 3500 °K | 80 CRI | 4800 lm | 102 | 47 W | Direct: Lambertian | |
| 50L-X-D-24-SOF-CX-35K-D49 | 3500 °K | 80 CRI | 4900 lm | 102 | 48 W | Direct: Lambertian | |
| 50L-X-D-24-SOF-CX-35K-D50 | 3500 °K | 80 CRI | 5000 lm | 102 | 49 W | Direct: Lambertian | |
| 50L-X-D-24-SOF-CX-35K-D51 | 3500 °K | 80 CRI | 5100 lm | 102 | 50 W | Direct: Lambertian | |
| 50L-X-D-24-SOF-CX-35K-D52 | 3500 °K | 80 CRI | 5200 lm | 102 | 51 W | Direct: Lambertian | |
| 50L-X-D-24-SOF-CX-35K-D53 | 3500 °K | 80 CRI | 5300 lm | 102 | 52 W | Direct: Lambertian | |
| 50L-X-D-24-SOF-CX-35K-D54 | 3500 °K | 80 CRI | 5400 lm | 102 | 53 W | Direct: Lambertian | |
| 50L-X-D-24-SOF-CX-35K-D55 | 3500 °K | 80 CRI | 5500 lm | 102 | 54 W | Direct: Lambertian | |
| 50L-X-D-24-SOF-CX-35K-D56 | 3500 °K | 80 CRI | 5600 lm | 102 | 55 W | Direct: Lambertian | |
| 50L-X-D-24-SOF-CX-35K-D57 | 3500 °K | 80 CRI | 5700 lm | 102 | 56 W | Direct: Lambertian | |
| 50L-X-D-24-SOF-CX-35K-D58 | 3500 °K | 80 CRI | 5800 lm | 102 | 57 W | Direct: Lambertian | |
| 50L-X-D-24-SOF-CX-35K-D59 | 3500 °K | 80 CRI | 5900 lm | 102 | 58 W | Direct: Lambertian | |
| 50L-X-D-24-SOF-CX-35K-D60 | 3500 °K | 80 CRI | 6000 lm | 102 | 59 W | Direct: Lambertian | |
| 50L-X-D-24-SOF-CX-35K-D61 | 3500 °K | 80 CRI | 6100 lm | 102 | 60 W | Direct: Lambertian | |
| 50L-X-D-24-SOF-CX-35K-D62 | 3500 °K | 80 CRI | 6200 lm | 102 | 61 W | Direct: Lambertian | |
| 50L-X-D-24-SOF-CX-35K-D63 | 3500 °K | 80 CRI | 6300 lm | 102 | 62 W | Direct: Lambertian | |
| 50L-X-D-24-SOF-CX-35K-D64 | 3500 °K | 80 CRI | 6400 lm | 102 | 63 W | Direct: Lambertian | |
| 50L-X-D-24-SOF-CX-35K-D65 | 3500 °K | 80 CRI | 6500 lm | 102 | 64 W | Direct: Lambertian | |
| 50L-X-D-24-SOF-CX-35K-D66 | 3500 °K | 80 CRI | 6600 lm | 102 | 65 W | Direct: Lambertian | |
| 50L-X-D-24-SOF-CX-35K-D67 | 3500 °K | 80 CRI | 6700 lm | 102 | 66 W | Direct: Lambertian | |
| 50L-X-D-24-SOF-CX-35K-D68 | 3500 °K | 80 CRI | 6800 lm | 102 | 67 W | Direct: Lambertian | |
| 50L-X-D-24-SOF-CX-35K-D69 | 3500 °K | 80 CRI | 6900 lm | 101 | 68 W | Direct: Lambertian | |
| 50L-X-D-24-SOF-CX-35K-D70 | 3500 °K | 80 CRI | 7000 lm | 101 | 69 W | Direct: Lambertian | |
| 50L-X-D-24-SOF-CX-35K-D71 | 3500 °K | 80 CRI | 7100 lm | 101 | 70 W | Direct: Lambertian | |
| 50L-X-D-24-SOF-CX-35K-D72 | 3500 °K | 80 CRI | 7200 lm | 101 | 71 W | Direct: Lambertian | |
| 50L-X-D-24-SOF-CX-35K-D73 | 3500 °K | 80 CRI | 7300 lm | 101 | 72 W | Direct: Lambertian | |
| 50L-X-D-24-SOF-CX-35K-D74 | 3500 °K | 80 CRI | 7400 lm | 101 | 73 W | Direct: Lambertian | |
| 50L-X-D-24-SOF-CX-35K-D75 | 3500 °K | 80 CRI | 7500 lm | 101 | 74 W | Direct: Lambertian | |
| 50L-X-D-24-SOF-CX-35K-D76 | 3500 °K | 80 CRI | 7600 lm | 101 | 75 W | Direct: Lambertian | |
| 50L-X-D-24-SOF-CX-35K-D77 | 3500 °K | 80 CRI | 7700 lm | 101 | 76 W | Direct: Lambertian | |
| 50L-X-D-24-SOF-CX-35K-D78 | 3500 °K | 80 CRI | 7800 lm | 101 | 77 W | Direct: Lambertian | |
| 50L-X-D-24-SOF-CX-35K-D79 | 3500 °K | 80 CRI | 7900 lm | 101 | 78 W | Direct: Lambertian | |
| 50L-X-D-24-SOF-CX-35K-D80 | 3500 °K | 80 CRI | 8000 lm | 101 | 79 W | Direct: Lambertian | |