New Zero-Emissions Oxyfuel Tech Could Change the World
---
A recent article in POWER magazine reported on a new technology we think is pretty darn exciting—a totally new oxyfuel natural gas power system that produces lower-cost power from fossil fuels, generates virtually zero air emissions, including carbon dioxide (CO2), and can operate as a net water producer.
About the Technology
With an efficiency of 58.9% and a carbon capture rate of almost 100%, this new technology could change the face of the natural gas industry. According to its developer, NET Power, the technology can run power plants able to eliminate CO2 and all other air emissions, including particulates, mercury, sulfur oxides (SOx) and nitrogen oxides (NOx). And the process produces only two major byproducts—liquid water and a high-pressure, very pure stream of CO2, which is pushed through a pipeline where it goes to storage or is prepared for industrial utilization.
NET Power uses their own patented thermodynamic cycle, the Allam Cycle (named for its lead inventor, Rodney Allam), to produce this new type of clean energy. According to NET Power's website, the system "uses a high-pressure, highly recuperative, oxyfuel, supercritical CO2 cycle that makes carbon capture part of the core power generation process, rather than an afterthought. The result is high-efficiency power generation that inherently produces a pipeline-quality CO2 byproduct at no cost to the system's performance." Moreover, at no extra cost, the CO₂ is at pipeline pressure.
In fact, the system's CO2 byproduct is of such high quality that it can be used in enhanced oil recovery (EOR). According to NET Power, this utilization not only permanently sequesters the CO2, but also provides significant added value for plant owners.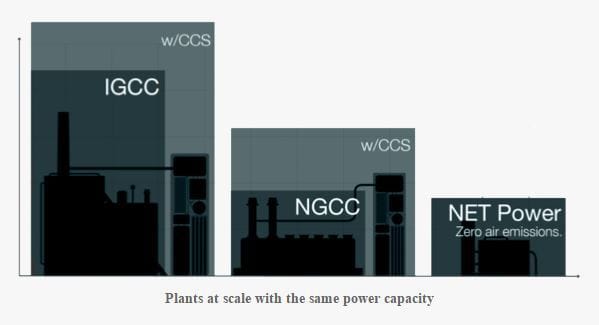 In an interview with POWER, NET Power spokesperson Walker Dimmig said the company gave the plant a 50-MWth rating because power output marketing is expected to "vary with the testing program of the demo, rather than having a constant output to the grid."
The article in POWER discusses construction of a 50-MWt demonstration plant in La Porte, Texas. NET Power, together with project backers and partners Exelon Generation, CB&I and 8 Rivers Capital, broke ground on the project last month. POWER also reported that the plant, which will cost an estimated $140 million (a total that covers research, development, testing and marketing), is expected to begin commissioning toward the end of 2016 and should be operational at the beginning of 2017.
Hey! Did you know? At Lyall, environmental protection is one of our greatest priorities. In fact, many of our natural gas distribution products were designed for that very purpose.