Title 24 is California's building energy efficiencystandard. It is required to be met for any buildingthat requires a permit.Lighting installations in all newly constructed buildingsand additions and alterations of existing buildingsmust meet applicable Title 24 requirements in orderto receive an occupancypermit. Compliance isverified by building inspectors.Title 24 is updated every 3 years by the CaliforniaEnergy Commission (CEC).
T24 2016 is the current version
T24 2019 takes effect beginning January 2020
WHAT HAS CHANGED SINCE TITLE 24 2016?
CALIFORNIA TITLE 24, PART 6 NON-RESIDENTIAL LIGHTING
Includes certain mandatory measures such as:
Area controls to operate lighting
Multi-level lighting requirements for dimming based on square footage and qty of luminaires/lamps
Daylighting controls capable of shedding load to eliminate energy wasteIncludes energy budget with two options:
Prescriptive approach: based on LPD (lighting power density)
Performance approach: combined measures based on TDV (time dependent valuation)
CALIFORNIA TITLE 24, PART 6 RESIDENTIAL LIGHTING
Includes certain mandatory measures such as:
All lighting installed in residential construction must be "High Efficacy"
All luminaires must include a compliant light source at the time of inspection
LED light sources do not necessarily need to be included in the packaging with the fixture
LED light sources or luminaires must be registered with the state and appropriately marked "JA8-YYYY" or "JA8-YYYY-E" (elevated temp/enclosed rated)
YYYY = 2016 or 2019
RESIDENTIAL REQUIREMENTS ARE PRODUCT/APPLICATION SPECIFIC, NON-RESIDENTIAL REQUIREMENTS CONSIDER THE ENTIRE BUILDING AS THE APPLICATION
---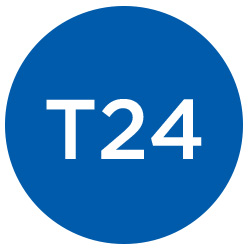 Any fixture with a socket (other than recessed housings) may be used to support compliance when a JA8 listed light bulb is installed. The light bulb must be marked either as: JA8-YYYYor JA8-YYYY-E (YYYY = 2016 or 2019).The E indicates that the bulb has been tested and meets requirements established for use in enclosed fixtures(ex: flush mounts)
All Title 24 Compliant Products
Any fixture that has an integrated LED or replaceable LED light enginethat has been tested and listed inthe California Appliance Database. Check for certified bulbs or fixtures by searching the MAEDBS database.
JA8 Products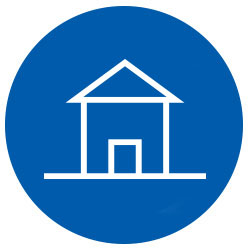 Fixtures that support compliance when used in outdoor lighting applications.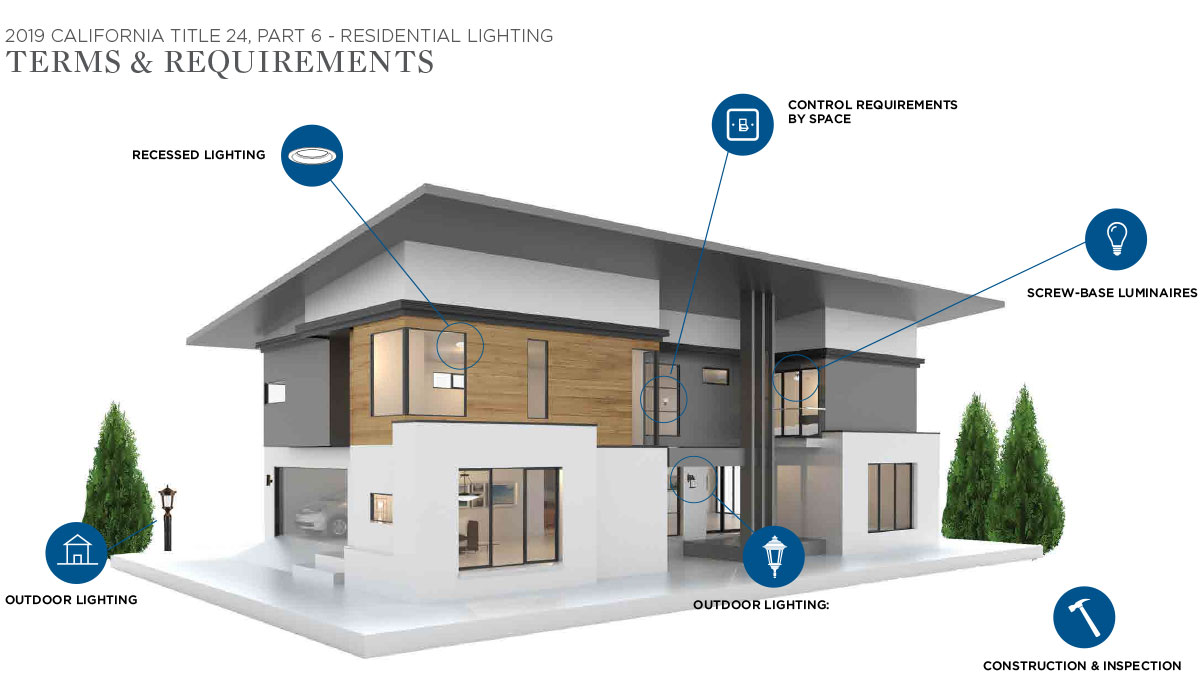 CONSTRUCTION & INSPECTION
The builder must now provide new homeowners with a schedule that includes a list of installed lamps and luminaires.
OUTDOOR LIGHTING: CONTROL SWITCH
Luminaires providing outdoor lighting shall meet the following requirements: Controlled by a manual ON and OFF switch* that permits the automatic actions of the following:
Photocell and either a motion sensor, or automatic time switch control
Controlled by an astronomical time * Refer to standard for additional requirements
RECESSED LIGHTING
Recessed Downlight housings must be rated for direct contact with insulation (Type IC), as well as be labeled and certified airtight with air leakage less than 2.0 CFM at 75 Pascals when tested with accordance with ASTM E283. The opening must be sealed with a gasket or caulk between the housing and ceiling. The recessed housing shall not contain a screw based socket. In addition, the light source must be high efficacy and comply with Reference Joint Appendix JA8. It must also be marked "JA8-2016" or "JA8-2019".
SCREW-BASE LUMINAIRES
All luminaires that utilize a screw-based socket must contain lamps that comply with JA8 high efficacy requirements. All enclosed, screw-base luminaires, must utilize a compliant lamp rated for elevated temperatures.
OUTDOOR LIGHTING
Per Table 150.0-A, light sources, including LED, installed in outdoor luminaires do not have to meet JA8.
CONTROL REQUIREMENTS BY SPACE
At least one luminaire in the bathroom, garage, laundry room and utility room must be controlled by a vacancy sensor. Preset scene controllers and EMCS can take the place of dimmers as long as the functionality meets code requirements.
---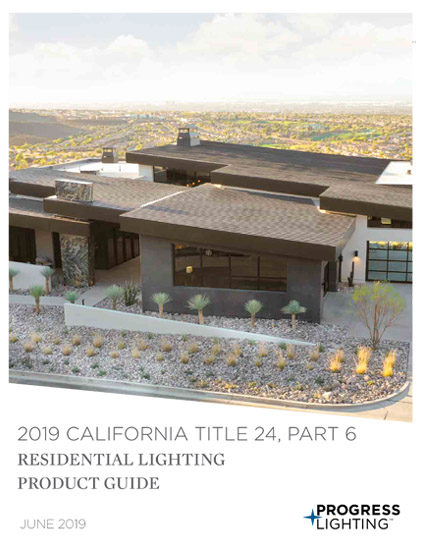 Brochure
Title 24 is enforced by the building or electrical inspector at the site of the lighting installation and may involve the homeowner, contractor and/or builder. The building permit process is used to identify and track compliance. If a lighting installation is noncompliant as installed, an occupancy permit maybe delayed or denied. Use this guide to select T-24 compliant products for your next project.
View Online
Download PDF