text.skipToContent
text.skipToNavigation
HOW TO SELECT THE PERFECT FAN IN 5 STEPS
Ceiling fans are practical and efficient solutions for creating comfortable and welcoming living areas. Ideal for great rooms, bedrooms and outdoor patios, ceiling fans exceed purely functional benefits – and can also add a beautiful decor element to your home. With many styles, functions and features to choose from, narrowing down the choices can be a challenge. Here we present five tips for selecting the perfect ceiling fan for your home.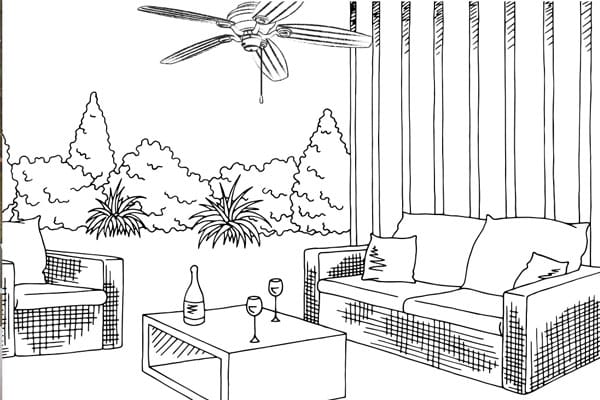 EXPLORE INDOOR VS. OUTDOOR USES
Fans provide a breezy setting for reading a book or catching up with friends, making them ideal for outdoor rooms. However, it's important to consider the certifications on the fan depending on the use. For high-humidity areas, choose a UL-Listed fan for Damp Locations – and for spaces that will be exposed to weather, choose a UL-Listed fan for Wet Locations. For interior use in dry spaces with minimal condensation, select a UL-Listed fan for Dry Locations.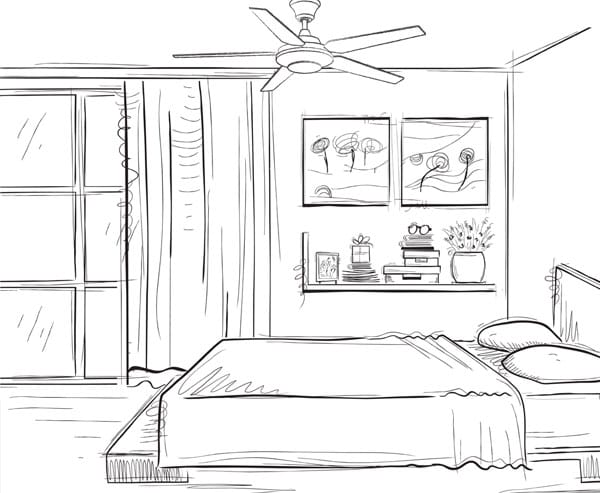 GET YOUR HEIGHT RIGHT
You want to allow at least 7 feet (84 in.) from the floor to the bottom of the fan, with 8 or 9 feet being the ideal above-floor placement. For lower ceilings, consider a ceiling fan with a low profile to avoid disturbing inhabitants. Most ceiling fans come equipped with a down rod to help you adjust to the correct height.
CHOOSE THE FEATURES
REVERSIBLE MOTOR
Did you know that ceiling fans can be used in both the winter and summer months? Typically, ceiling fans are used to help cool down a room and keep the air flowing with a counter- clockwise blade direction. However, fans can also keep a room warm when the direction of the blades is reversed.
Select a fan with reversible motor for the option to circulate cool or warm air. Most ceiling fans have a small switch located either on the motor housing or the switch cup. Move the switch to the opposite position to reverse the blade direction.
CLOCKWISE / REVERSE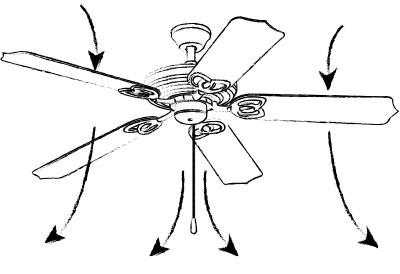 This direction is used during the cooler months as it makes a room warmer by creating a draft that pushes warm air to the ceiling, along the walls and into the room. You will not feel much of a breeze in this setting.
COUNTER-CLOCKWISE / FORWARD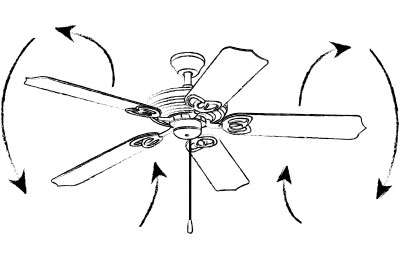 This direction is used during the warmer months of the year as it makes a room cooler. By blowing the air downward, you will be able to feel a draft directly from the ceiling fan.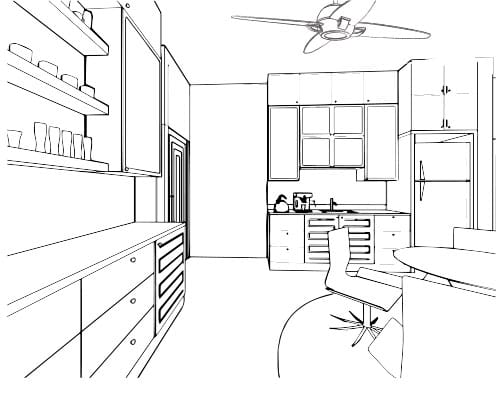 SIZE IT TO YOUR SPACE
Size is really important when selecting your ceiling fan. If a fan is too large, it can overwhelm the space. On the flip side, if the fan is too small, the airflow may be inadequate for that area.
As a general rule of thumb, lighting experts suggest the following fan sizes compared to square footage.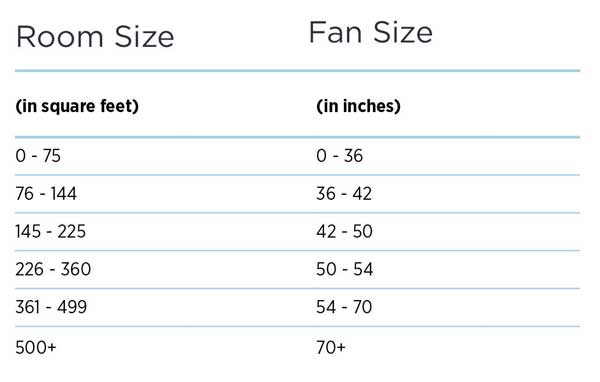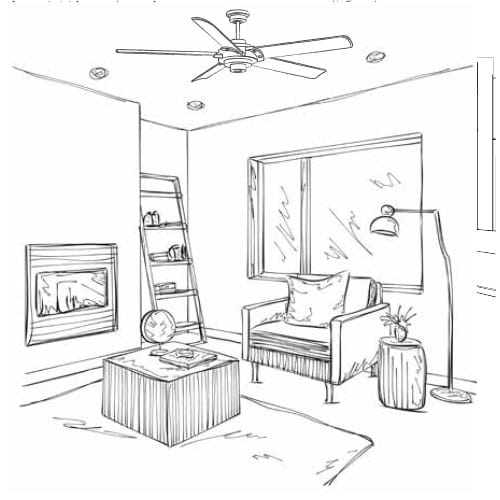 SETTLE ON STYLE
Once you've identified the size and application of your fan, it's time for the fun part – choosing a style that complements your home decor. Consider fan shape, blade features and finish to help you meet your room's design needs. Choose from Traditional, Transitional, Coastal or Farmhouse styles. The possibilities are vast!
DOWNROD SELECTION GUIDE
Allow at least 7 feet (84 in.) from the floor to the bottom of the fan, with 8 or 9 feet being the ideal above-floor placement.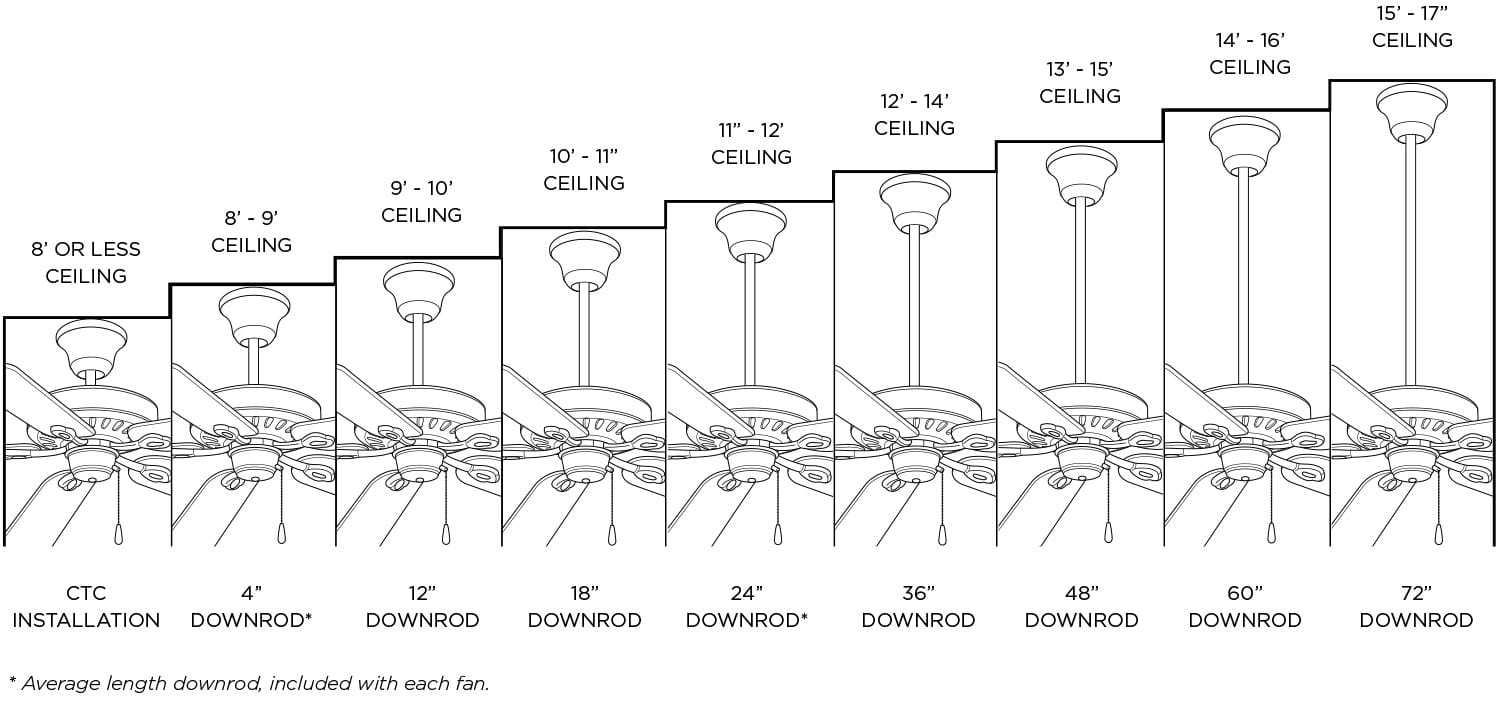 ---