text.skipToContent
text.skipToNavigation
---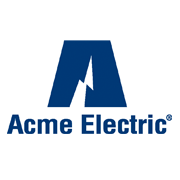 In 1917, Acme Electric began its legacy of producing top performing electrical products in Cleveland, OH. Founded by C.H. Bunch, G.R. Hillstrom, J.B. Armitage, R.A. Lais, and G.R. Sawitzke as Acme Electric and Machine Company, the initial product offering consisted of motor-driven battery chargers, electrical appliances, and electrical generators.
In 1925, Acme Electric jumped into the transformer world with their transformer-type battery chargers and in 1936 introduced the Dry-Type Distribution Transformer! That same year, Acme Electric reaped the benefits of major growth, and moved into a new facility in Cuba, NY.
Throughout the 100 years of Acme Electric's existence, we have developed a growing array of transformer product lines, offering a bold contribution to the Commercial Construction industry. Acme Electric is now part of the Hubbell Incorporated team, and we've never been better! As we grow our partnership with Hubbell Inc., Acme Electric will continue the tradition of commitment to a diversified mix of quality transformer products.
On November 29th, 2018, Acme Electric announced the manufacturing facility is certified to the latest ISO 9001 version.