text.skipToContent
text.skipToNavigation
LOW VOLTAGE DRY TYPE DISTRIBUTION TRANSFORMER
600 Volt Class and Below Single and Three Phase for all general purpose applications
---
ENCAPSULATED SINGLE PHASE, .05 TO .150 KVA
Features:
·UL listed, CSA certified and UL-3R enclosure meets or exceeds all listing criteria including NEMA, ANSI and OSHA standards
·Easy and convenient installation to meet your requirements, the transformer can be mounted in any position
·Long Life UL class 130°C insulation system. Transformers can be banked for three phase service
·Large wiring compartment, no conduit or pull boxes required. Front access for wiring ease. Wiring compartment remains cool
·Completely enclosed UL-3R enclosure for indoor/outdoor service. Rugged non-ventilated construction
·Plenty of knockouts for multi-directional entry
·All copper lead wire terminations
·Ground studs for use with non-metallic conduit.
ENCAPSULATED SINGLE PHASE, .250 TO 25 KVA
Features:
·UL listed, CSA certified and UL-3R enclosures meets or exceeds all listing criteria including NEMA, ANSI and OSHA standards
·Shielded for cleaner power
·Encapsulated and completely enclosed design uses electrical grade silica and resin compounds to completely enclose the core and coil to seal out all moisture and air. UL Type 3R enclosure for indoor or outdoor service. Encapsulation eliminates corrosion and insulation deterioration
·Quiet operation with sound levels well below NEMA standards
·Long life UL class 155°C insulation system. 115°C rise thru .750 kVA; 180°C insulation system, 115°C rise, 1 kVA and above
·Available in 316 Stainless Steel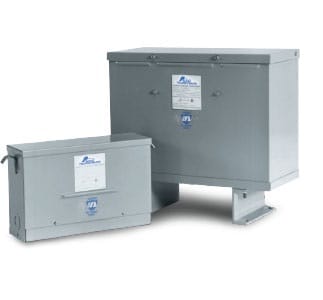 ENCAPSULATED THREE PHASE, 3 TO 75 KVA
Features:
·UL listed, CSA certified and UL-3R enclosure meets or exceeds all listing criteria including NEMA, ANSI, and OSHA standards
·UL Class 180°C insulation system. 115°C rise
·Extra-large front access wiring compartment through 9 kVA; top access through 75 kVA for easier installation and cooler case temperatures
·Completely enclosed — suitable for indoor/outdoor service. Consult selection charts for details. Excellent for dust or lint laden atmosphere
·Encapsulated — electrical grade silica and resin compound completely encloses the core and coil. Encapsulation seals out all moisture and air, eliminating corrosion and insulation deterioration
·High efficiency and excellent regulation
·Sound levels below NEMA standards
·Keyhole mounting slots permit installation of mounting bolts prior to hanging transformer and are accessible from the front. Lifting ears for easy installation. Wiring connections can be made outside of wiring compartment due to the use of flexible leads
·3-9 kVA provided with dual size knockouts in sides and bottom of wiring compartment
·Termination — copper lead wire
·Electrostatic shielding provided on all 60 Hz isolation transformers
·Available in 316 Stainless Steel
VENTILATED SINGLE PHASE 37.5 TO 250 KVA, THREE PHASE 15 TO 1000 KVA
Features:
·With weather shield, UL Type 3R enclosure or Type 2 enclosure without weather shield. UL listed and CSA certified
·UL Class 220°C insulation system, 150°C rise
·Extra-large wiring compartment for easier installation and cooler case temperatures
·NEMA standard bus bar terminals, no special tools needed to make clearly marked connections. Tap changing easily accomplished with jumpers. Aluminum windings for increased insulation life, cooler operation, lower losses. Noise and vibration isolating pads standard to assure quiet operation
·Large permanently legible nameplates on front
·Single phase units can be banked for 3 phase service
·All units have ground studs for use with non-metallic conduit
·Suitable for wall or "trapeze" mounting. Wall brackets are available for units up to 50 kVA single and 75 kVA three phase
·Other models are available with class 220°C insulation and either 115°C or 80°C rise operating temperature
·Three phase units15-112.5 kVA have pre-installed lugs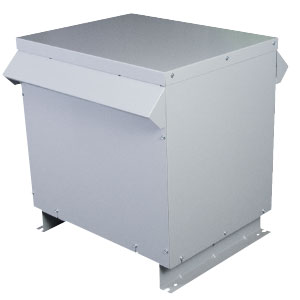 DOE THREE PHASE 15 TO 1000 KVA
Features:
·Core Design - cores are high-quality electrical steel from industry-leading suppliers
·3R Compliant - all new units ship with weather shields already installed
·Flexibility - when a weather shield is not needed, it can easily be removed
·Terminal Lugs - primary and secondary terminals come standard with lugs (up to 112.5 kVA) for quicker, easier connections
·Isolating Pads - extra padding reduces noise and vibration, assuring quiet operation
·Aluminum Windings - aluminum provides increased insulation life, cooler operation and lower losses
·Consistent Fit/Form - enclosure sizes of DOE 2016 units are identical to TP-1 sizes