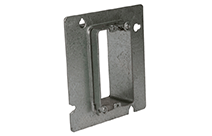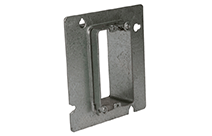 RACO® Adjustable Mud Rings
The New RACO® Adjustable Mud Rings have been designed to provide job site flexibility when finished wall depths are unknown.
The Inner Ring can be easily adjusted after the drywall is installed to match the appropriate depth, thus saving time for the electrical installer. The adjustment screws are clearly visible and accessible even after device is installed.
They provide an extensive adjustability range from 1/2" up to 1-3/8".
They are available for 4" square boxes as well as 4-11/16" square boxes, in a 1-Gang and 2-Gang versions.
The New RACO® Adjustable Mud Rings also maintain code-compliant installations in hospitals, health care and multi-family applications.