Welcome! We're Thrilled You've Joined Us.
No one wants to take static, boring online courses. With advances in technology, like augmented and virtual reality, learners expect more than just some text and PPT animation. We all want an interactive and engaged training experience. We're thrilled to offer our new Residential Lighting Online Interactive Training Series.
Throughout our courses, we aim to provide training in a fun and interactive environment. Not only do we provide you with an opportunity to learn from some of the best in the industry – it's also FREE. And to top it off, we designed our modules to be taken on your own time and pace.
Join us monthly to learn about a wide variety of modules geared around design inspiration, lighting tips and guidelines. Guaranteed to Equip, Educate and Excite!
PROGRESS LIGHTING NEW PRODUCT TRAINING TRACK
Recommended Browser: Google Chrome
---
PROGRESS LIGHTING 2019 NEW PRODUCT TRAINING TRACK
Recommended Browser: Google Chrome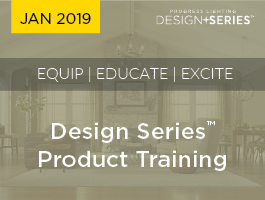 Course: January 2019 Design Series
Description: In this module, you will get a sneak peek of our 2019 January Design Series Catalog introductions before they are released in our showroom at Dallas Market. This new catalog will contain all active design series products, so it will replace the current 2018 Design Series catalog. We are excited to release 14 new collections, totaling to 85 new products total.
---
The design of ceiling fans have come a long way over the years. They use to be picked solely for their functionality purpose. Today, there are many stylish options across a wide variety of price ranges that they serve their purpose while making a décor statement. Whether it's Farmhouse, Coastal or Urban industrial – we've got a ceiling fan to fit that trend direction.
In our newest training module, you'll learn about two of our newest collections – Glandon and Greer. Both suitable for a variety of trends. You'll also hear firsthand from Steve Register, our ceiling fan product manager, what's new for Progress, popular décor trends, sizing guidelines as well a section where he deep dives on a few frequently asked questions around remotes, sizing guidelines and down rods.
Recessed lighting plays a key role in the functionality and design of your living space. Ideal for use in a variety of home settings, recessed fixtures are high on the list when it comes to versatility in both style and application. In this module, we'll help take the guess work out of how to determine which recessed fixtures align best with your design needs and goals. We'll also cover when to offer LED surface mount lighting as well as showcase a few NEW 2018 products, including our Edgelit LED recessed collection – a slim, low profile recessed downlight. No more housing or J-Box required for installation, plus it's wet location listed making it ideal for many residential, multi-family, commercial and hospitality applications.
This module includes application information and product detail for the three categories of undercabinet lighting; linear, puck and tape lighting. Following the training, you'll be tested on your knowledge by a brief quiz. Be sure to click the resources tab to see additional tools to learn more about undercabinet products.

June 2018 Product Training & Lighting Trends
In this module, you will learn about the latest June 2018 product introductions. After we share what's new and exciting here at Progress Lighting, we will test your knowledge with a brief quiz. In conclusion, we'll share our latest marketing materials, including the popular Curated Collection Guide, Experience Progress and Lighting Trends brochure.