EMERGENCY PHONES
GAI-TRONICS' emergency phones are designed to provide two-way communications, high visibility and an additional layer of security for a wide range of indoor and outdoor environments. Our phones are ADA compliant, rugged and provide quick and easy hands-free use.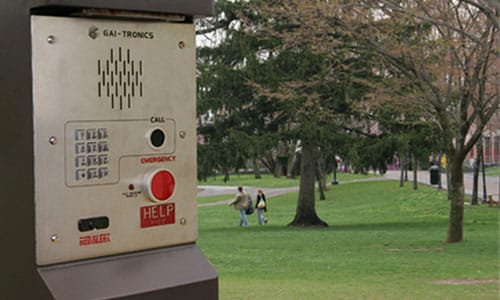 MONITORING YOUR EMERGENCY PHONES
Connecting to our telephone management software (TMA) makes monitoring your phones easy. Each phone is automatically recognized and logged in for SMART operation. Additionally, each phone is polled on a scheduled basis to report line integrity, microprocessor health, microphone and speaker fault, power failure, battery health (where applicable) and system registration.
VOIP, ANALOG & WIFI CONNECTIVITY OPTIONS
At GAI-TRONICS, we know that each installation is unique and requires different connectivity options for an optimal communication experience. Available connectivity options are analog, VoIP and WiFi. Need a replacement? We offer retrofit solutions for analog and VoIP models.