RUGGED INDUSTRIAL PHONES
GAI-TRONICS' rugged industrial phones are designed for use in indoor or outdoor environments. Their rugged design, combined with operational reliability offers a premier solution for nearly any communication application. Available with Analog, SMART Analog or VoIP connectivity in a variety of enclosures.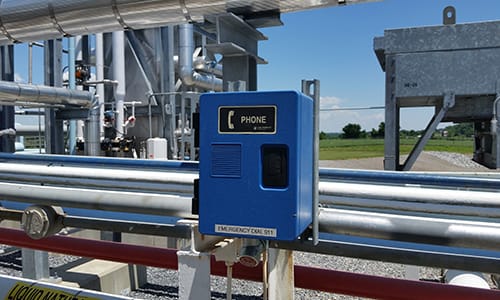 WEATHERPROOF PHONE BOXES
GAI-TRONICS is primarily known and recognized for manufacturing rugged telephones that can withstand virtually anything and remain fully functional. Our outdoor telephones have weatherproof ratings (NEMA and IP) from NEMA 3R/IP65 to NEMA 4X/IP66. All outdoor telephones include conformally coated boards to inhibit corrosion.
OUTDOOR PHONE BOX AUDIO CAPABILITIES
LOUD AND CLEAR FOR 75 YEARS! Many hazardous environments tend to be very loud, making it difficult to effectively communicate. If there is one communications feature that separates GAI-TRONICS from the rest, it's our noise-cancelling microphone.