Industrial Processes
Harmonic Filters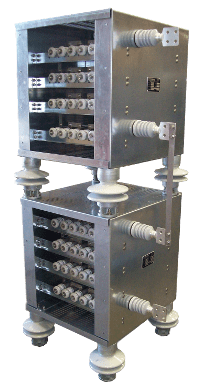 Application
Harmonic filters are commonly used in industrial applications where there are concerns about harmonic distortion caused by the increasing number of nonlinear power electronic and solid state devices. Harmonic distortion causes stress and resultant problems for a plant's power distribution system, as well as all of the equipment that is serviced by that system. For example, the higher voltage peaks that are created by harmonic distortion put extra stress on motor and wire insulation, which ultimately results in insulation breakdown and failure. In addition, harmonics increase RMS current, causing increased operating temperatures for many pieces of equipment, resulting in greatly reduced equipment life. The primary objective of a harmonic filter is to reduce the amplitude of one or more fixed frequency currents or voltages.
Design
Powerohm can design resistor configurations for harmonic filtering systems requiring power resistors, such as static var compensation systems and damping filters. The resistor is normally designed to meet certain criteria outlined in a detailed specification. Our experienced engineering staff, using our wide selection of resistor elements, will design a resistor assembly to meet your needs.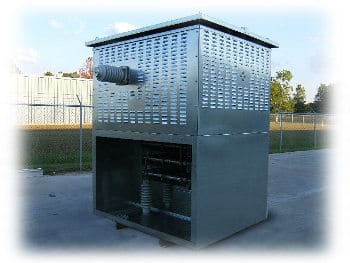 The resistor type is determined largely by the requirements of the specification. Elements are selected to best meet the power rating, inductance limits and voltage requirements of the system. A typical assembly includes all stainless steel elements, interconnecting jumpers, and terminals. Most designs are natural convection cooled, but forced air cooling can be utilized for certain applications.
Powerohm filter resistors are available in open-style configurations for indoor or outdoor use. These resistors can be installed in NEMA 1 or NEMA 3R enclosures, complete with nearly any finish including mill galvanized, power coated, hot dipped galvanized after fabrication, aluminum or stainless steel. Our assemblies are also available with additional options such as special entrance bushings, elevating stands, and drip hoods for open-style units.
We invite you to send your specification to us.