text.skipToContent
text.skipToNavigation
Commercial & Industrial Solutions
---
Residential New Construction

Civil Construction Applications: Residential, Commercial and Industrial
CHANCE® helical piles for new construction are designed, tested, and proven for applications in expansive soils, high water tables, fill areas and other areas where unstable soils require piling.
On reinforced footing or stem walls, the new construction helical piles are usually placed every 5 to 10 feet depending upon the load of the structure and the bearing strength of the soil.
A two-man crew with a skid loader can place over 30 helical piles ready for loading in less than one day. Helical piles rated by the building codes for working loads of 10 to 20 tons are typical. For new deep foundations, CHANCE helical pile systems are installed at intervals between the footing forms and tie into the rebar gridwork prior to pouring concrete. The steel piles are extended to depths attaining the required installing torque correlated to the required load bearing capacity.
CHANCE Helical Piles feature: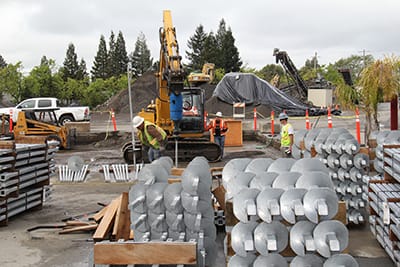 Reach competent soil below active zone
Predictable via torque-to-capacity correlation
No excavation or spoils to remove
Loads may be immediately applied
Installs in limited access
Installs in any weather condition
The Shape of Stability
The Shape of Stability
The true helix geometry of each steel bearing plate minimizes soil disturbance during the vibration-free installation. Approved by CCMC (Canadian Construction Materials Centre) and ICC-ES (ICC Evaluation Service), CHANCE helical piles have become the deep foundation system of choice for architects, builders, contractors, engineers and geotechnical firms.
New Construction with CHANCE Helical Pulldown® Micropiles (HPM)
CHANCE helical piles have 1-1/2″ to 2-1/4″ solid square shafts or 3-1/2″ pipe shafts with helical plates 8″ to 14″ in diameter.
CHANCE New Construction Foundations
The HPM constructs a grout column around the shaft of a helical pier for sites with weak surface soil conditions.