EV Charging Infrastructure
---
Proven Foundation
Tested and trusted for decades as foundations for streetlights, solar panels, and wind generators, Chance Instant Foundations are now used to support EV charging infrastructure.
Benefits include:
No concrete required
Quick and easy site preparation
Reduces installation time by weeks!
Lowered mobilization costs
No excavation or soil removal
Units can easily be adjusted, extracted and reused
Made from recycled steel
Sustainable (Reduced Scope 3A4/A5 emissions)
Dual cableway for daisy-chained wiring
Economical and readily available for a large variety of loading needs, these wire-ready screw anchors provide measurable capacity during installation.
The trenched wires are fed through the dual cableways up into the EV charging unit providing a safe and secure method of providing power and communication to the device.
Contact us to get started!
Contact Us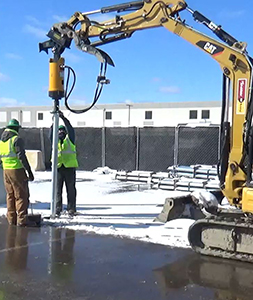 Simple, No-Concrete Installation
The concept is simple. Chance EV charger foundations are a single-piece, hollow steel helical pile pipe with a sturdy baseplate welded to the top.
The easy-to-install foundation system can be screwed into the ground in limited access areas or near existing structures. With no vibration or heavy equipment required for installation, you can ensure you will be provided with a long-lasting, wire-ready foundation without the hassle and mess of pouring concrete or excavation of soils.
With no concrete to cure or excavated soil to haul away, you can load the foundation and connect the wires immediately after it is screwed into the ground.
Visit our blog to learn more about EV charging infrastructure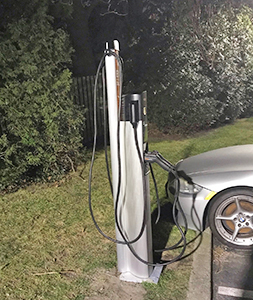 Efficient & Effective
Chance Instant Foundations will provide both cost and time savings while also providing a reliable foundation solution.
Typically installed in 10 minutes by a two-person crew, down time at the installation site is eliminated. If the foundation ever needs to be removed, it can be unscrewed and reused at another location.
With no additional coordination of labor and material for a traditional concrete foundation or excavation prior to installation what could possibly a more time-saving solution?
Chance is your single source solution for EV charger installation, offering helical bumper posts or concrete collars to protect your EV foundation.
Watch a video to learn more about some engineered advantages of Chance foundations.