text.skipToContent
text.skipToNavigation
---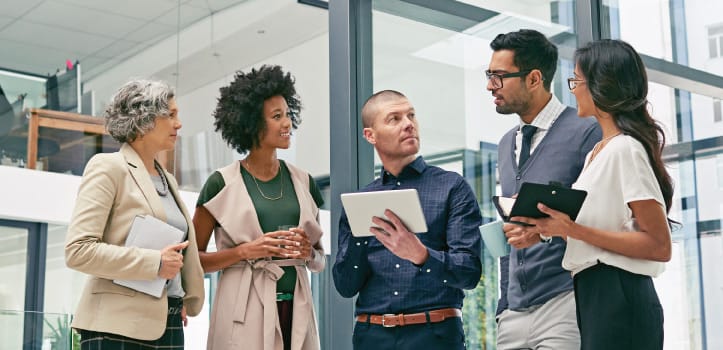 Social: Our Commitment to Our Stakeholders
We can communicate about our purpose and values, but it is our people that bring them to life. Investment in the engagement, development and safety of our workforce is paramount to our success as a business, while our social imperatives also expand the ways we give back to our communities through volunteerism and the Harvey Hubbell Foundation.
Across the enterprise and within our businesses and teams, there are a variety of ways we encourage our employees and leaders to learn – on the job, in the classroom, through self-directed learning, or through different leadership programs. We recognize and emphasize the value of continued education and training for our employees.
19,100 EMPLOYEES
10 COUNTRIES OF OPERATION
Hubbell is a global company committed to fostering an environment that respects and encourages individual differences, diversity of thought, and talent. We strive to create a workplace where employees feel their contributions are welcomed and valued, leading to better business outcomes and allowing employees to bring their whole selves to work every day. In 2019, Hubbell created a multi-year, enterprise-wide strategy dedicated to evolving our inclusive culture while addressing underrepresentation across our company.
In addition to Hubbell's Women Advancing Their Careers at Hubbell (WATCH) organization, in 2019 we joined
Paradigm for Parity®
committing alongside more than 100 other companies to achieve gender parity by 2030. We acknowledge that equality is just the first step in closing the gender gap and will be focused on creating more equitable avenues regardless of gender, race, ethnicity, LGBTQ status, parental status, and/or work status in the future.
We appreciate the values, leadership, and unique skills service members bring to the workforce, and we encourage opportunities to hire Guardsmen, Reservists, and Veterans. In 2019, we partnered with
Employer Support of the Guard and Reserve
(ESGR), pledging to fully recognize, honor, and comply with the Uniformed Services Employment and Reemployment Rights Act. We provide our managers and supervisors with the tools they need to effectively manage employees who serve in the Guard and Reserve, and we recognize and support our country's service members and their families, in peace, in crises, and in war.
Development

And Resources
Our company's learning platform (Hubbell University) helps build the skills and knowledge needed for our employees to succeed today and in their future. Curriculums support education and development across key areas, such as business acumen, leadership, functional skills and compliance courses. We offer access to online and instructor-led training, book summaries, videos and ever evolving content to support every learner's style.
Hubbell provides various leadership development programs across the company for its employees, tailored to different areas of focus and improvement.
Hubbell provides market competitive compensation, health and well-being, and retirement benefits based on the countries and markets in which we operate. Our Total Rewards benefit programs are designed to attract and retain high-caliber employees and motivate market-leading performance.
In the midst of the global COVID-19 pandemic, Hubbell took numerous actions to support our employees. Hubbell invested in enhanced cleaning protocols, provision of PPE, remote work environments and introduced staggered shifts and social distancing in its locations. Hubbell issued an
Emergency Paid Leave Policy
for its employees as well.
SINCE 2015 TOTAL RECORDABLE INCIDENT RATE REDUCED BY
SINCE 2015 DAYS AWAY RESTRICTED OR TRANSFERRED RATE REDUCED BY
As a manufacturing company, we take the safety of our employees very seriously and have dedicated personnel and resources constantly monitoring and advising on workplace safety matters. We regularly conduct industrial hygiene assessments, internal and external audits, inspections and assessments, job hazard analyses, and ergonomic assessments. We use an enterprise-wide data management system to track this information. Additionally, each of our locations tracks various safety metrics including Total Recordable Incident Rate (TRIR) and Days Away, Restricted or Transferred (DART).
| Year | OSHA Recordables | Incident Rate | Employee Hours Worked | # of Serious Injuries | DART RATE |
| --- | --- | --- | --- | --- | --- |
| As of 05/2018 | 94 | 1.28 | 14,642,605 | 0 | 0.81 |
| As of 05/2019 | 106 | 1.24 | 17,019,031 | 3 | 0.86 |
| As of 05/2020 | 63 | 0.83 | 15,095,979 | 0 | 0.45 |
COUNTRIES WITH SCREENED SUPPLIERS
Our commitment to ethical business practices extends to third parties as well. Every supplier, vendor, sales agent, distributor or any other third party that does business with Hubbell must comply with our
Third-Party Code of Business Conduct and Ethics
. Our third-party due diligence process includes screening for corporate social responsibility areas of concern including criminal activity, sanction, embargo and watch lists and human rights and export controls. Our goal is to ensure that all Hubbell partners share our commitment to conducting business with a focus on ethics, integrity, sustainability and social responsibility. 100% of Hubbell's vendors are screened to ensure we have an ethical and more sustainable supply chain.
Hubbell is committed to eliminating the occurrence of human rights violations from our commercial operations and supply chain. Hubbell strictly prohibits all forms of involuntary labor, child labor, bonded labor and human trafficking in its business dealings. Our
Global Human Rights Policy
requires all stakeholders to provide minimum human rights and workplace standards including employment of workers at or above the minimum age in each applicable jurisdiction.
DONATED ANNUALLY TO BENEFIT SCIENCE, TECHNOLOGY, ENGINEERING, AND MATH PROGRAMS AND ADDITIONAL CHARITIES.
*As of 2020
Feeding America & COVID-19
In the midst of the COVID-19 pandemic, the Harvey Hubbell Foundation looked for new ways to help the communities in which our employees live and work. Partnering with Feeding America, the Foundation donated funds to help food banks across the United States.
For more than 50 years, the Foundation has focused on supporting charitable organizations in the United States with a specific focus on funding education and science, technology, engineering, and math (STEM) programs. In 2020, the Foundation donated more than $1,000,000*.

*2020
Through the Foundation's "Dollars for Doers" program, the Foundation supported more than 170 charities and non-profits that employees, directors, and the company volunteered for in 2020.
In 2020, Hubbell dedicated the month of October as a month of focused volunteering and service, called Hubbell Helping Hands.
Among local volunteering initiatives, our employees lead Habitat for Humanity builds, run Make-A-Wish Foundation fundraisers, participate in walks for the American Cancer Society, contribute to United Way campaigns, partner with the National Urban League and volunteer for numerous other local and national charities. Our Volunteer Paid Time Off Policy permits our US employees to donate their time and efforts for charitable pursuits.