text.skipToContent
text.skipToNavigation
OVERVIEW
Introducing the BURNDY® PATRIOT® PAT444S

T3

Series with all the exceptional features of its PATRIOT predecessor, plus a new ergonomic design and state of the art technology.
The TRACK TRACE TRANSMIT intelligence feature provides critical crimping information for all projects small and large. Data collected by the PAT444S

T3

provides users a new level of confidence that their BURNDY crimper is performing to specification and enhances the application of the BURNDY® Engineered System; an undeniable advantage over all competitive tools.

TRACK

crimp locations with onboard GPS -

BURNDY Exclusive!




TRACE

individual crimps with comments, photos, and output force validation


TRANSMIT

via Bluetooth® technology and sync to the cloud
ERGONOMIC
New C-Head style for easy access and increased flexibility


Dieless System with range taking capability


Fewer crimps, helps lessen operator fatigue


355° Head rotation


Improved ergonomic design with more balance


Enhanced grip to reduce user fatigue
DURABLE
Robust and reliable INFINITY DRIVE® transmission


Patented, high-speed hydraulic pump system


Conformally Coated PCB protects electronic circuitry to work in severe weather


Accepts 2.0Ah-6.0Ah Makita batteries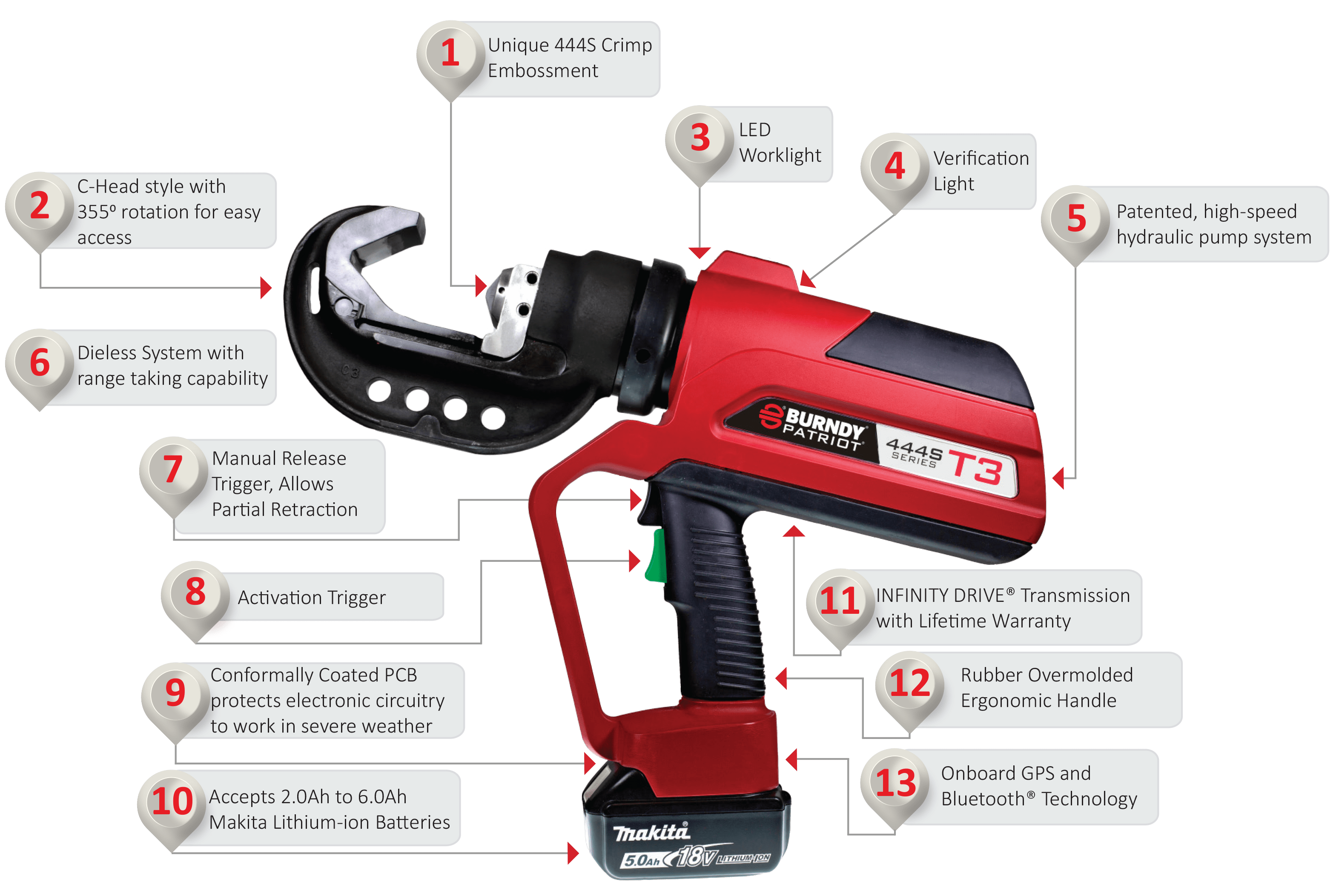 CAPACITIES

Crimp Capacity

Connector Type
Conductor Type
Ranges
Terminals & Splices
Copper, Copper Flex, Aluminum
#4 AWG-1000 kcmil
HYPLUG™
Copper, Aluminum
#4 AWG-1000 kcmil
HYPLUG™
Copper Flex
#2 AWG-777 kcmil
Full-Tension Splices
ACSR, AAC, AAAC, ACAR
#4 AWG-556.5 kcmil
Cable Pulling Heads
Copper, Aluminum
#6 AWG-1000 kcmil
NUMBERING SYSTEM: example - PAT444ST3U05A3

PAT444ST3

U

05

A

3

Base tool

Head Type

Battery

Charger

Case

U

Uncovered

00

None

03

(2) 3Ah 18V

05

(2) 5Ah 18V

0

None

A

120V-AC

D

12V-DC

0

No Case

1

n/a

2

Hard Case

3

Pro Bag

Base tool with:

Uncovered

(2) 5AH 18V

120V-AC

Pro Bag
PRODUCT CONFIGURATIONS

Tool PN
Description
(All tools accept 2.0Ah-6.0Ah Lithium-ion Batteries)
PAT444ST3U03A2
PATRIOT® T3 11-Ton Battery Crimper, Dieless C-Head, (2) 3.0Ah 18V Li-Ion Batteries, 120V AC Charger, Hard Case
PAT444ST3U03D2
PATRIOT® T3 11-Ton Battery Crimper, Dieless C-Head, (2) 3.0Ah 18V Li-Ion Batteries, 12V DC Charger, Hard Case
PAT444ST3U05A2
PATRIOT® T3 11-Ton Battery Crimper, Dieless C-Head, (2) 5.0Ah 18V Li-Ion Batteries, 120V AC Charger, Hard Case
PAT444ST3U05D2
PATRIOT® T3 11-Ton Battery Crimper, Dieless C-Head, (2) 5.0Ah 18V Li-Ion Batteries, 12V DC Charger, Hard Case
PAT444ST3U03A3
PATRIOT® T3 11-Ton Battery Crimper, Dieless C-Head, (2) 3.0Ah 18V Li-Ion Batteries, 120V AC Charger, Nylon Pro Bag
PAT444ST3U03D3
PATRIOT® T3 11-Ton Battery Crimper, Dieless C-Head, (2) 3.0Ah 18V Li-Ion Batteries, 12V DC Charger, Nylon Pro Bag
PAT444ST3U05A3
PATRIOT® T3 11-Ton Battery Crimper, Dieless C-Head, (2) 5.0Ah 18V Li-Ion Batteries, 120V AC Charger, Nylon Pro Bag
PAT444ST3U05D3
PATRIOT® T3 11-Ton Battery Crimper, Dieless C-Head, (2) 5.0Ah 18V Li-Ion Batteries, 12V DC Charger, Nylon Pro Bag
PAT444ST3U0002
PATRIOT® T3 11-Ton Battery Crimper, Dieless C-Head, No Batteries, No Charger, Hard Case
PAT444ST3U0003
PATRIOT® T3 11-Ton Battery Crimper, Dieless C-Head, No Batteries, No Charger, Nylon Pro Bag
PAT444ST3U0000
PATRIOT® T3 11-Ton Battery Crimper, Dieless C-Head, No Batteries, No Charger, No Case
SPECIFICATIONS

Output Force
11 Tons
Tool Weight
16.5 lbs
Size
16.90" x 14.95" x 3.25"
Die Style
Dieless
Operating Voltage
18V-DC Lithium-Ion
Recharge Time
30 minutes (3.0Ah)
45 minutes (5.0Ah)
Warranty
5 year limited warranty
Lifetime warranty on INFINITY DRIVE®
3 year on batteries and charger