text.skipToContent
text.skipToNavigation
Fire Mitigation Solutions
---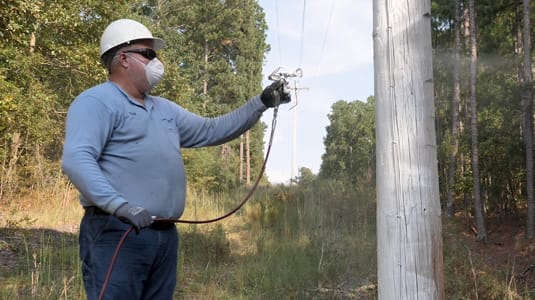 Passive Fire Protection
Passive fire protection solutions, like coatings, can protect the utility infrastructure. Utilities recognize that wooden poles are vulnerable to fire. However, replacing millions of wooden poles with metal or composite ones isn't realistic from a cost and labor perspective. Hubbell Power Systems' Fire Protection Coating (FPC) is a latex intumescent coating formulated to preserve the structural integrity of wooden utility poles in the event of a fire. When poles are coated with FPC, an intumescent char forms as a reaction to heat or fire, ultimately reducing the risk of catastrophic failure. Check out our video to see the coating in action.
View Hubbell Power Systems' holistic approach to wildfire mitigation in our brochure.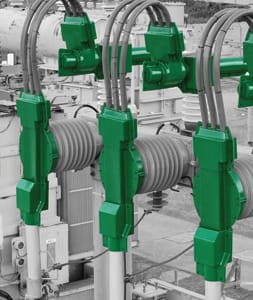 Wildlife Mitigation
Contact prevention products are an effective way to mitigate the risk of power line fires caused by animals. Hubbell Power Systems offers two products for wildlife contact prevention that are V-0 rated and tested in compliance with IEEE 1656 (specified for testing flammability): Reliaguard® wildlife covers - install-ready intended for distribution power lines. Greenjacket® wildlife covers - site-specific solutions intended for substations and focus on a precise fit. To learn more, visit hubbelltv.com.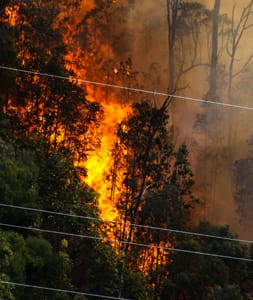 Grid Monitoring
Grid monitoring tools are valuable for predicting and responding to utility-related fire hazards. Aclara's solutions are particularly good at identifying transient fault current events. Patterns in these events provide early indications about potential causes. During restoration, Grid monitoring can be a great tool for temporary SCADA monitoring for mobile generators or temporary substations and Aclara's grid monitoring solutions offer enhanced visibility, flexibility and mobility. A wildfire application guide is available on Aclara's website.