Utility Structure Foundations
---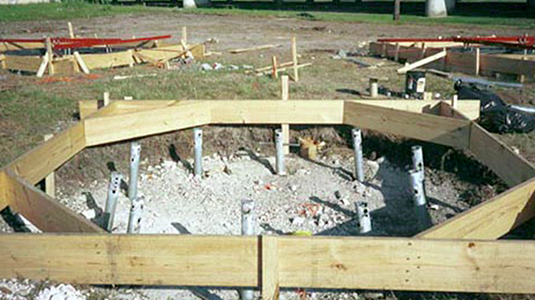 Solutions
Because of their many advantages, helical pile usage continues to grow in the construction of power and communication structures. The Hubbell team is committed to supporting our customers with: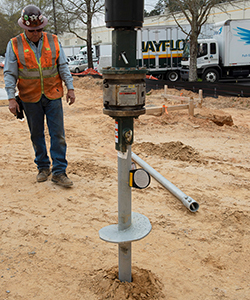 Helical Piles
CHANCE® helical piles install in almost any type of terrain including flood plains, glacial till, sand, swamps and bogs. Where soft soil conditions will not support heavy installation equipment, helical piles offer a logical choice. Their lighter installing equipment also lowers mobilization costs.
Benefits of helical piles include:
Cut time and costs
No soil removal
Rapid installation
Immediate loading
Green alternative to concrete
Small installation equipment limits right-away damage
Install in any weather
Removable and reusable
Predictable and measurable capacity
High capacity options up to 300 kip per pile
Pile caps transition to concrete cap or grillage tower base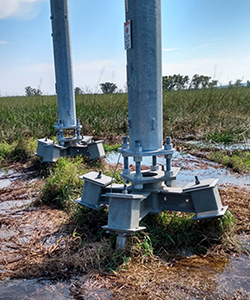 Pole Base Grillages
Grillages consist of a welded steel plate and hollow structural steel and are used to attach helical piles to structure bases or tower legs. This results in a stable foundation, even in less-than-ideal conditions. Non-shrink grout is used to fill the void between helical pile and grillage hollow structural steel. This allows extra flexibility during pile installation.
Grillage intended to be used with:
3.5" & 4.5" diameter helical pile piles (softer soils)
Micropiles (harder/rocky soils)