text.skipToContent
text.skipToNavigation
Products
Solutions

Take a Tour

Benefits are derived from well implemented Solutions. The challenge to save energy, improve safety or make sure everything continues to perform in a harsh environment, are all candidates for good solutions.

Solutions

Solutions

Take a Tour

Take a Tour

Benefits are derived from well implemented Solutions. The challenge to save energy, improve safety or make sure everything continues to perform in a harsh environment, are all candidates for good solutions.

Markets

Take a Tour of the Markets We Serve

Hubbell serves the needs of customers in a variety of market applications. See our major markets and building types below.

Markets

Markets

Take a Tour of the Markets We Serve

Take a Tour of the Markets We Serve

Hubbell serves the needs of customers in a variety of market applications. See our major markets and building types below.

Resources

Specification Design Center

Company
Products
Solutions

Take a Tour

Benefits are derived from well implemented Solutions. The challenge to save energy, improve safety or make sure everything continues to perform in a harsh environment, are all candidates for good solutions.

Solutions

Solutions

Take a Tour

Take a Tour

Benefits are derived from well implemented Solutions. The challenge to save energy, improve safety or make sure everything continues to perform in a harsh environment, are all candidates for good solutions.

Markets

Take a Tour of the Markets We Serve

Hubbell serves the needs of customers in a variety of market applications. See our major markets and building types below.

Markets

Markets

Take a Tour of the Markets We Serve

Take a Tour of the Markets We Serve

Hubbell serves the needs of customers in a variety of market applications. See our major markets and building types below.

Resources

Specification Design Center

Company
Emergency Preparedness for Healthcare Solutions
---
Overview
When hospitals and long-term care organizations have solutions they can count on, the focus turns to patient care and efficient workflow – not downtime, disruptions, or disconnections. This can make a life-saving difference, especially during times of crisis.
Our wiring devices can withstand whatever comes their way, whether it's frequent use, repeated impact, potential corrosion, temperature changes, and even damp conditions.
This level of dependability has made Hubbell Wiring Device-Kellems the leader in healthcare solutions for more than a century. Our solutions help hospitals and long-term care facilities instantly access power, data, voice, and multimedia to keep their systems, technology, and medical equipment going.
Hubbell creates reliable connections every time – without interruption.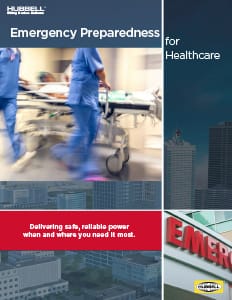 Emergency Preparedness for Healthcare Product Guide
From critical care and patient care spaces to waiting areas and nurses' stations, each wiring device we manufacture for healthcare environments is designed to offer the ultimate in quality, safety, dependability, code compliance, and abuse resistance.
Emergency Preparedness Products